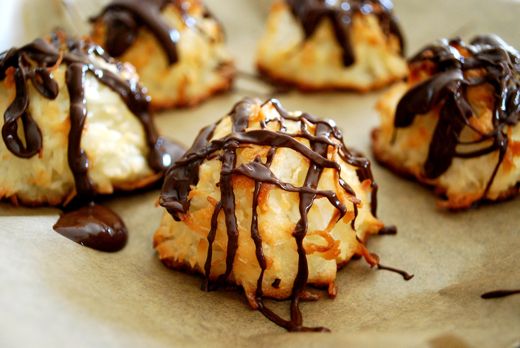 A friend of mine recently had to give up gluten due to a health problem (Remember that for most people, gluten is fine, and a gluten-free diet is not a tool for weight loss).  She was pretty bummed about needing to avoid one of her favorite foods: cookies.  Of course there are many gluten-free cookies on the market now, but nothing beats homemade, so I wanted to make her a tasty gluten-free treat.  Coconut macaroons immediately came to mind.  These are naturally gluten-free, super quick to prepare, and when fresh, taste incredible….especially drizzled with chocolate!  Regardless of whether you eat gluten or not, I highly recommend whipping up a batch of these for your next cookie need.  YUM.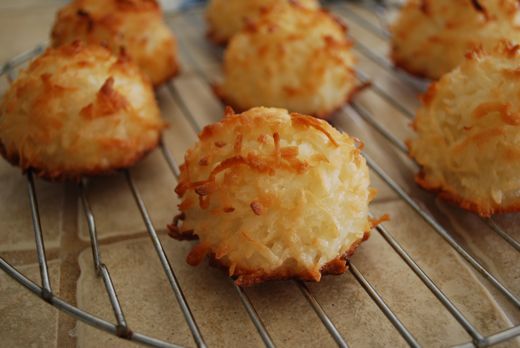 Chocolate Coconut Macaroons
Ingredients
2 large eggs, whites only
¼ teaspoon Almond Extract
1 tablespoon Sugar
1 pinch Kosher salt
2 cups shredded coconut, pre-sweetened
½ cup Chocolate Chips
Instructions
Preheat oven to 350. Using a stand mixer or electric hand mixer, beat egg whites until stiff peaks form, about 3-5 minutes. Stir in the almond extract, sugar, salt; then fold in the coconut.
Line a baking sheet with parchment paper. Using a small ice cream scoop or melon baller, place packed scoopfuls on the baking sheet. Bake macaroons for 15-20 minutes or until golden brown on the top and bottom. Let cool on a rack.
Place chocolate chips in a microwaveable bowl. Microwave for 30 second intervals, stirring in between, until chips are melted and smooth. (Careful not to overcook, or the chocolate will break apart). Drizzle chocolate over macaroons and eat as is, or let harden before serving.