My definition of junk food has really evolved over the years.
First it was anything with a lot of calories. Then it was anything with a lot of calories and not a lot of nutrients.
Now, I think of junk as processed foods that contain additives or unidentifiable ingredients I would never keep in my own kitchen.
I no longer think of butter (pasture-raised) or ice cream (organic) or chocolate (fairly traded & sustainable) as junk foods. Rather, these are real foods that I eat in moderation – because yes, they are high-calorie and have fewer nutrients than fruits & veggies – but not foods I feel are harming my body as long as I'm active and maintaining a healthy weight.
This evolution in my nutritional views has changed the way I shop, cook and eat. And the effects on my weight and emotional state have been nothing but positive.
Onto the Chocolate Peanut Butter Cup Cookies….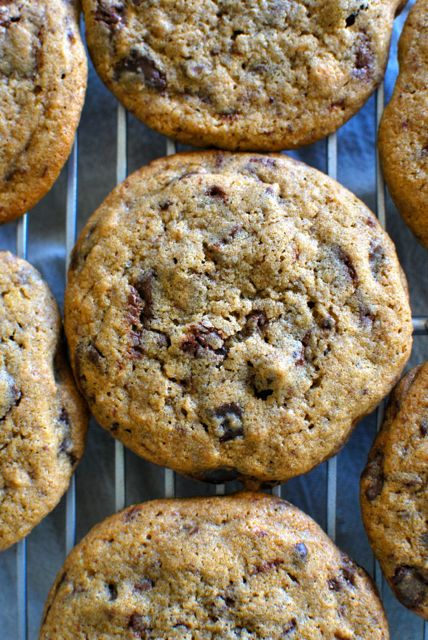 I wouldn't go so far as to say these cookies are healthy. That would be a little outrageous.
But, these cookies are made with ingredients that support healthy people, healthy animals and a healthy planet. Organic, fairly traded chocolate and peanut butter cups (Videri and Justin's), pasture-raised butter (Kerrygold) and pasture-raised eggs.
So hidden under the delicious flavors are a set of food values you can feel good about.
Enjoy!
Chocolate Peanut Butter Cup Cookies
Ingredients
8 oz organic or pasture-raised butter at room temperature
1 cup dark brown sugar
¼ cup raw turbinado sugar
2 tsp vanilla extract
2 pasture-raised eggs (like Happy Egg Co. or Vital Farms)
2¼ cup whole wheat flour
1 tsp baking soda
1 cup chopped peanut butter cups (4 packages of Justin's 2 PB cup packages)
1 cup chopped fair trade milk chocolate
1 cup chopped fair trade dark chocolate
Instructions
Preheat oven to 350.
In a stand mixer, cream together the butter and sugars.
Add vanilla and eggs, one at a time and combine until smooth.
Scrape down the sides of the mixing bowl then add the flour, ⅓ at a time, and mix on low until just incorporated.
Gently stir in chocolates by hand with a spatula, or mix on low until just combined, being careful not to over mix.
Scoop spoonfuls of dough onto parchment-lined baking sheets and bake two inches apart for 9-11 minutes or until edges are just beginning to brown.
Let cool on baking sheet for 2-3 minutes then move to a cooling rack.