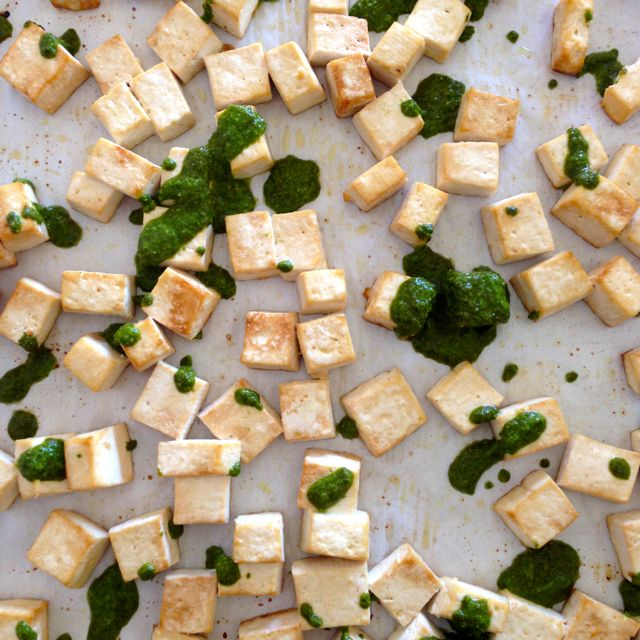 Tofu is an easy, inexpensive meat replacement. But unless you dress it up with bold flavors, it can be pretty bland and boring.
I usually marinate tofu cubes in tamari or soy sauce with a little oil, but recently I tossed it with fresh, homemade pesto and loved the result.
This Pesto Roasted Tofu is great on top of a salad, alongside rice and white beans, or tossed with ravioli or another pasta.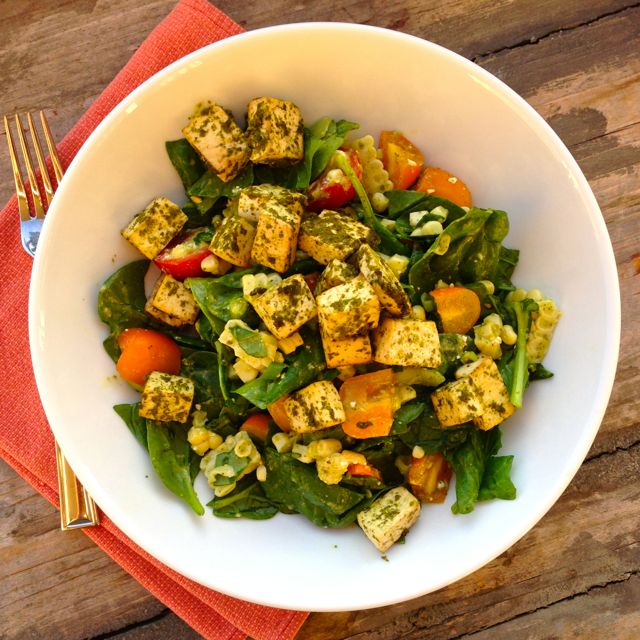 Make a big batch and use it throughout the week!
Pesto Roasted Tofu
Use this flavorful, versatile tofu as part of any meatless meal!
Ingredients
2 packages extra firm tofu, sliced and drained on paper towels for at least 15 minutes
¼ cup pesto (basil, kale, spinach or any kind you like)
1 Tbsp canola oil
1 tsp salt
Pinch of black pepper
Instructions
Preheat oven to 425.
Cut drained tofu into cubes and place in a single layer on a parchment-lined baking sheet (if you can't fit the cubes in a single layer, use two baking sheets).
Toss cubes with oil, salt and pepper.
Place in the oven and roast for 15-20 minutes or until edges are browning.
Remove from oven and toss cubes with pesto. Roast an additional 3-5 minutes.
Remove from oven and let cool 5 minutes before eating.