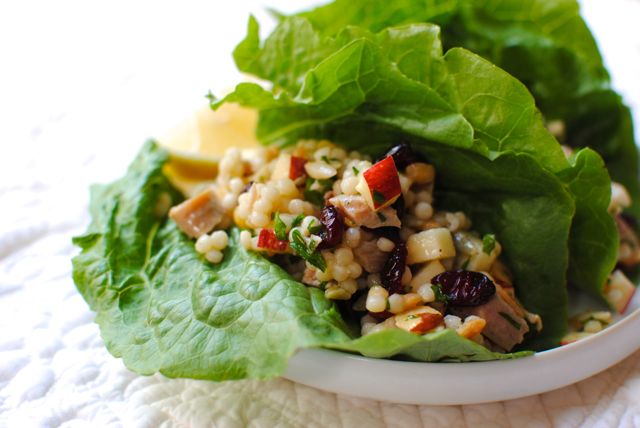 In an effort to use up the last of our turkey, I made these lettuce wraps over the weekend. They were a real hit!
If you're all turkey'd-out, no worries. You can easily replace the turkey in this recipe with white beans, baked tofu, chicken breast or any other veggie.
These were a snap to put together, thanks in part to Earthbound Farm's Easy Leaves – no washing, drying or trimming required.
Simply assemble the grain mixture then pile into crispy leaves of lettuce and enjoy!
I used both Romaine and butter lettuces and each worked perfectly.
Cranberry Apple Lettuce Wraps
Great way to use leftover turkey or chicken. Or make these vegetarian by adding tofu or beans in place of the meat.
Ingredients
Juice of 1 medium lemon
3 Tbsp olive oil
1 tsp Dijon mustard
2 cups cooked grains, such as Israeli couscous, wild rice, farro or barley
½ a large apple, chopped
1 cup cooked turkey or chicken, cubed or shredded
½ cup chopped celery (optional)
2 Tbsp Earthbound Farm dried cranberries
2 Tbsp sliced almonds
3 Tbsp chopped parsley
Earthbound Farm Easy Leaves - Romaine, Butter or Petite Lettuce
Instructions
In the bottom of a medium bowl, whisk together the lemon juice, mustard and olive oil until smooth. Add a pinch of salt & pepper.
To the bowl, add the turkey, grains, apples, parsley, cranberries, nuts and celery (if using).
Toss to coat all ingredients, then spoon mixture into lettuce leaves and enjoy.
Nutrition Information
Serving size:
2-3 lettuce wraps per person