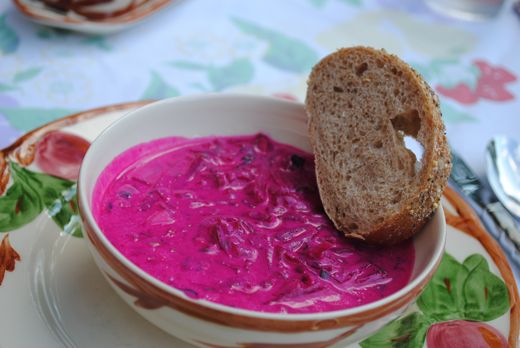 There aren't many magenta foods out there…or at least naturally-colored magenta foods!  This soup is an exception to that rule.  If you like beets, you'll love this vibrant chilled soup on a warm summer evening.  It's extremely quick and easy to prepare, but to make it even faster, you could use a package of pre-cooked beets.  Whatever method you choose, enjoy!
Chilled Buttermilk Beet Soup
Ingredients
¼ cup Fresh Dill, stems removed (frons only)
1 English or Hothouse Cucumber, finely chopped
3 Green Onions, finely chopped
4 whole Beets, cooked and peeled
1 teaspoon Kosher salt
1 quart Lowfat Buttermilk
Instructions
Using a cheese grater, grate beets into a large bowl. Add chopped cucumber (chop into very small pieces), green onions, and chopped dill frons to the bowl. Season with Kosher salt and a pinch of ground black pepper.
Pour buttermilk over veggies and gently stir to combine. If mixture doesn't seem like a soup consistency, add more buttermilk to taste. Place bowl in the fridge so soup can chill and flavors can meld for at least 30 minutes. Soup may be stored in the fridge for up to 5 days, and the flavor just gets better!