A warm, satisfying vegetarian pumpkin soup for any chilly winter night!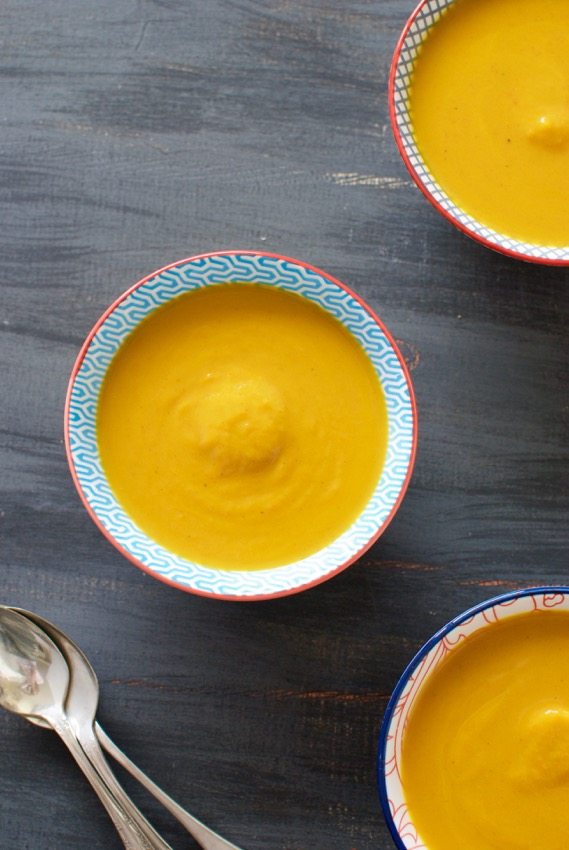 We still have one holiday left before the January health craze hits, but I'm ready now.
See you next year, egg nog. Ciao, Christmas candy. Sionara, sweet treats. Give me vegetables!
Salads, big platters of roasted veggies and warm, satisfying soups are what I'll be making for the foreseeable future. Nothing bland or boring, of course. Just food that makes us all feel good, after a month (or more) of frequent indulgence.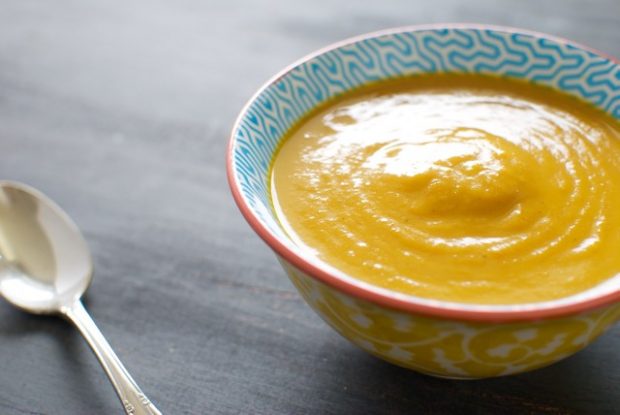 Today, I made this Curry Pumpkin and Sweet Potato Soup. It's creamy, hearty, and slightly sweet with just a hint of spice, so it appealed to our whole family – a big win, as any parent knows.
I used coconut milk here, since nothing complements curry and squash more than creamy coconut. But you can use low-fat milk or even just more broth if you prefer.
One bowl of this and your body won't even remember that extra piece of fudge you ate on Christmas 😉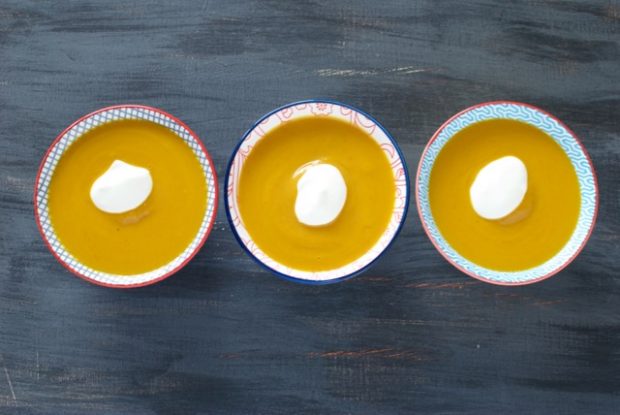 Enjoy!

Curry Pumpkin Sweet Potato Soup
A warm, satisfying soup for any chilly winter night!
Ingredients
1 Tbsp olive oil
1 medium onion, chopped
2 large carrots, chopped
1 large sweet potato, chopped
2 tsp curry powder
Pinch each of salt & pepper
1 can pumpkin puree
4 cups vegetable broth
1 14-oz can coconut milk
Instructions
Heat oil in a medium-sized heavy-bottomed pot.
Add onion and carrot and sauté on medium heat about 5 minutes or until veggies begin to soften.
Add curry powder, pinch of pepper and sweet potato cubes; stir one minute.
Stir in broth and pumpkin puree.
Cook over medium-low heat for about 30 minutes or until veggies are soft.
Remove from heat, blend with an immersion (stick/hand) blender, then stir in coconut milk.
Taste for seasonings. Add salt if needed.
Serve with crusty bread and/or a dollop of yogurt if desired.