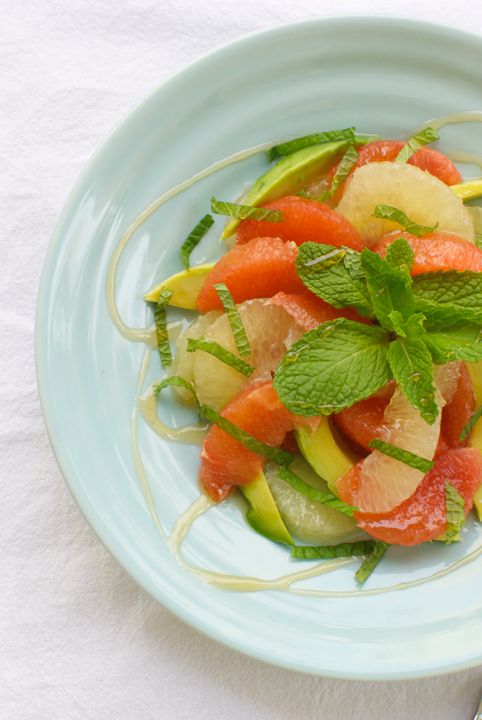 When I was pregnant, I couldn't get enough citrus. Oranges, grapefruits, kumquats, lemons, limes, you name it – I ate them all with serious zeal. Something about the fruit's juiciness and bright, clean flavors was appealing even when I didn't feel good. Let's just be glad no one invited me to their citrus grove during this period of time, or I may have wiped out the whole harvest 😉
I've since learned that I'm not the only one. Apparently it's a pregnancy thing. Pregnancy + citrus = match made in heaven.
Which is why I'm sharing this Grapefruit and Avocado Salad today.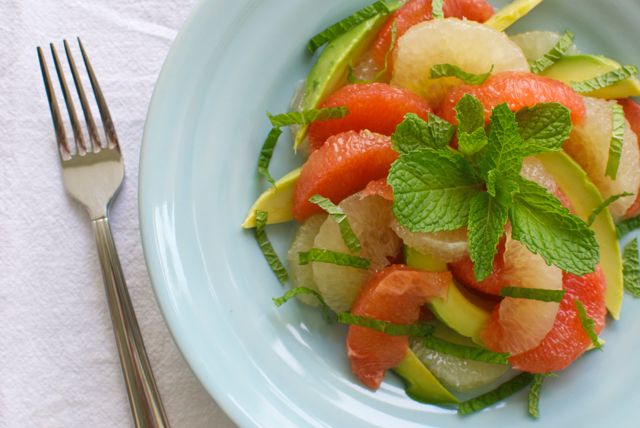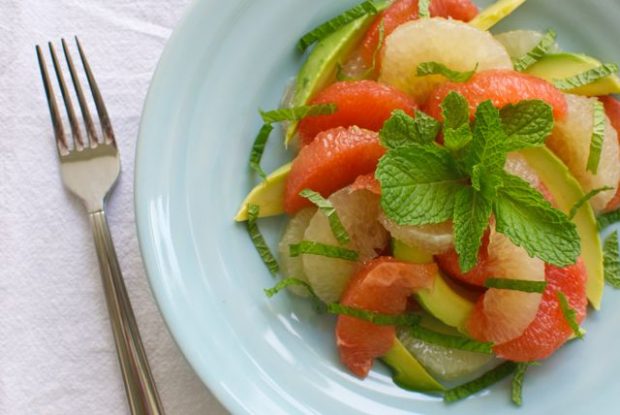 See, today is a special occasion. It's a surprise virtual baby shower for my friend Caroline, the talented chef and photographer behind the blog Chocolate & Carrots.

Surprise!! Welcome to your baby shower, Caroline!
Caroline and I met at BlogHer Food in 2013, and we've since become blogging buddies.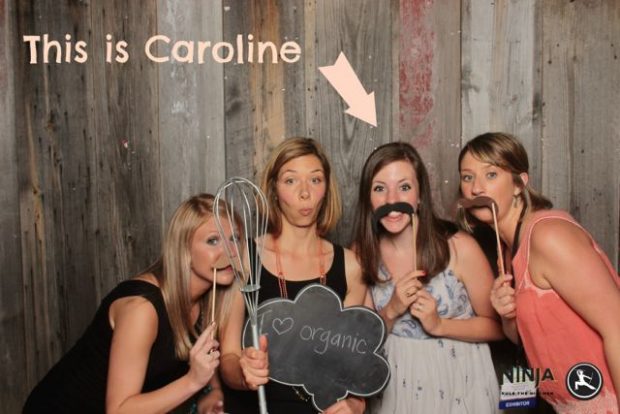 When I found out she was pregnant with her second baby, and also craving all things citrus, I just knew I had to "bring" this Grapefruit Salad to her virtual baby shower.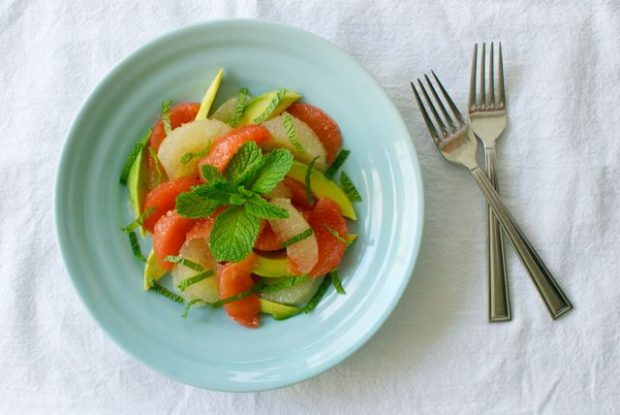 So here it is. The salad I still can't get enough of. This dish is a perfect accompaniment to a comforting winter entree or can be turned into a light & healthy meal when served with grilled shrimp or chicken on top of some extra greens.
Pregnant or not, you're going to love this salad!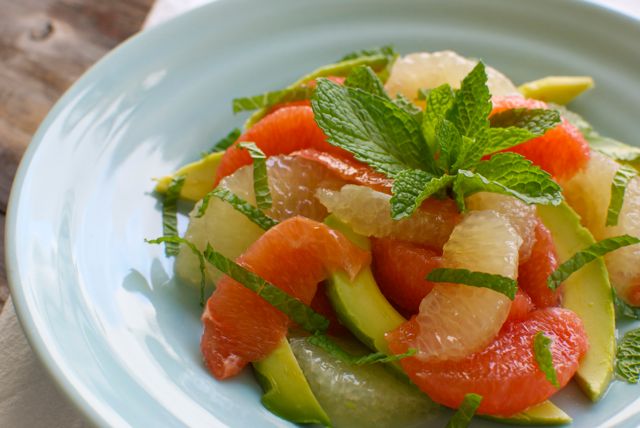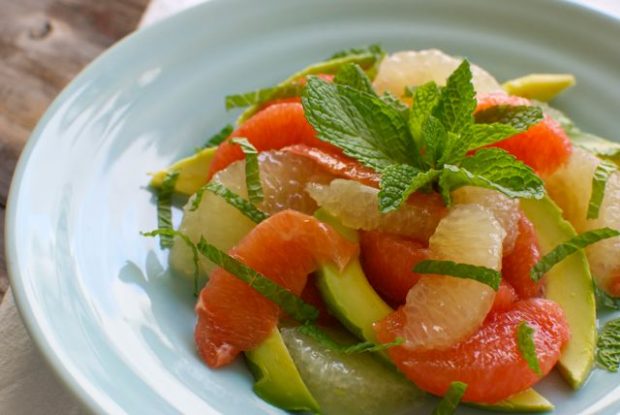 Caroline, I'm wishing you all the best as you become a mama of two! Life will definitely be crazier, but it's such a joy to watch your kiddos develop their own relationship, and to see that your second baby looks at your first with complete and total adoration, just as you do.
A huge congratulations and enjoy some extra citrus on me! 😉

Grapefruit Salad with Avocado, Honey and Mint
A bright, fresh and juicy salad that makes the perfect light meal or side dish during the otherwise dark months of winter!
Ingredients
2 Ruby Red grapefruits
2 Oro Blanco (or other white-fleshed) grapefruits
2 small avocados
Handful of mint leaves, rough chopped
Honey and extra virgin olive oil for drizzling
Salt & pepper to taste
Instructions
Using a knife, peel the grapefruits and cut off any remaining white pith.
Cut the grapefruit segments carefully over a bowl, being sure to avoid including the white skin between each segment, as this can be bitter. Place the segments in a different medium-sized bowl (the one you're cutting over will catch the juice - the other is for the salad)
Slice the avocado into medium-thin wedges, and add to the bowl of grapefruit segments.
Add several tablespoons of fresh chopped mint, a tiny pinch of salt and a drizzle of honey.
Toss gently to combine and taste for seasoning. Add black pepper, more honey and/or a little drizzle of olive oil if desired.
More citrus dishes from today's baby shower:
Mini Lemon Curd Tarts from Texanerin Baking
Lemon Yogurt Baked Donuts with Chocolate Drizzle from The Lemon Bowl
Super Soft Clementine Sugar Cookies from The Comfort of Cooking
Lemon Poppy Seed Muffins from Oh Sweet Basil
Quinoa Granola Parfaits with Grapefruit & Mint from Climbing Grier Mountain
Flourless Dark Chocolate Orange Brownies from Sweet Treats & More
Berry Tart with Lime Glaze from Katie's Cucina
Meyer Lemon Shortbread Cookies from Keep it Sweet Desserts
Creamy Lemon Pasta from Barefeet in the Kitchen
Orange Pecan French Toast from The Baker Mama
Meyer Lemon Pull-Apart Poppy Seed Muffins from Eats Well with Others