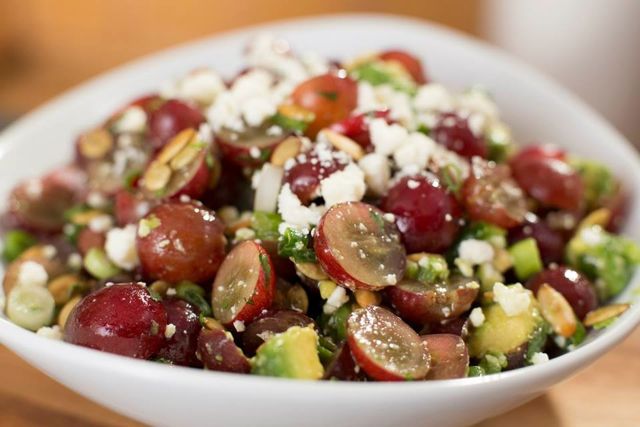 The following is a guest post by my sweet friend, Heather K. Jones, a registered dietitian and weight loss expert. Heather created this recipe for the California Grapes Commission.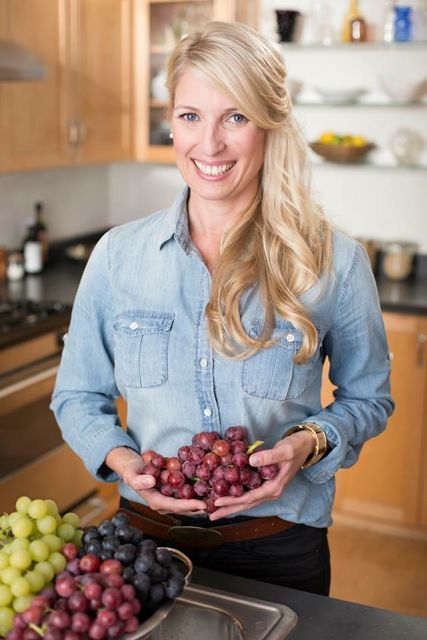 As a dietitian, I obviously love fruits and vegetables of all kinds 😉
Lately, I've been really into grapes, which are a fabulous way to add color and punch to salads and side dishes. With just 90 calories in a ¾ cup serving of grapes, you can have sweetness and crunch without the consequences that many other holiday foods leave behind.
Grapes of every color contain a variety of antioxidants and other polyphenols and natural components that may contribute to a healthy heart.  Apart from being a natural source of beneficial antioxidants, grapes also contain potassium and are a good source of vitamin K, which plays a role in helping blood to clot.
Though grapes do have 20 grams of sugar per serving, this is a naturally-occurring sugar, which is much different than added sugar – a.k.a. empty calories – that don't provide any nutritional value. When you eat grapes, or any other fruit, you also get healthy vitamins, fiber, water and other nutrients.
California grapes, available through January, are the perfect addition to your holiday meals. I created this salad with the holidays in mind. Hope you enjoy it as much as I do!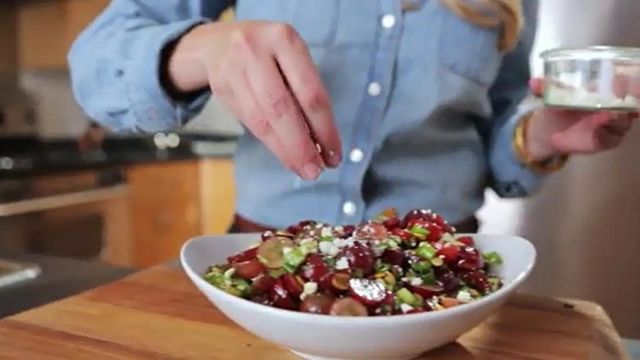 Grape and Avocado Salad
Ingredients
1½ tablespoons extra-virgin olive oil
1½ tablespoons fresh lime juice
2 teaspoons honey
¼ teaspoon sea salt
3 cups red seedless California grapes, halved
2 tablespoons snipped fresh cilantro
1 tablespoon minced jalapeño pepper
2 green onions, sliced
1 ripe avocado, cubed
¼ cup roasted, salted pumpkin seeds
¼ cup crumbled Cotija cheese (optional)
Instructions
For the dressing: Whisk together the oil, lime juice, honey, and salt in a large bowl.
For the salad: Stir the grapes, cilantro, jalapeño, and green onions into the dressing.
Add the avocado and stir again lightly.
Sprinkle the top with the pumpkin seeds and cheese, if desired.
Nutrition Information
Calories:
127
Fat:
8 grams