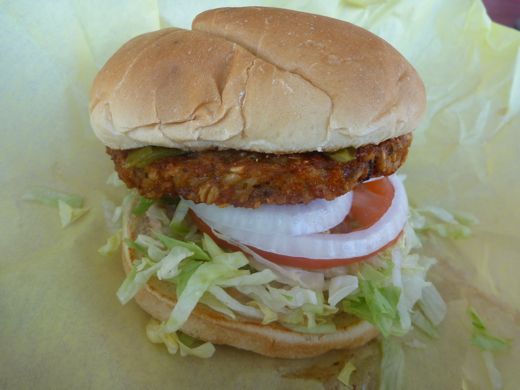 It's not always easy to find good fast food on the road.  But at Route 66 Burger in Needles, CA (aka hottest place on earth) they have an Ortega Gardenburger: simply a gardenburger with fire-roasted green chiles on it.  The addition of the chiles turned this meal from basic into something worth telling you about.
Make an Ortega Burger of any kind (beef, turkey, chicken, veggie) at home by doing one of the following:

1. Add a can of mild diced green chiles & squeeze of lime to 1/2 cup Light mayo and spread on burger bun.
2.  Spread 2 Tbsp of canned diced green chiles directly on your burger bun.
3.  If using meat, add a can of diced green chiles to your ground beef/turkey/chicken before forming into patties.
4. Throw a couple Poblano peppers on the grill and turn frequently until the skin is blackened. Put peppers in a bowl, cover with plastic wrap, and let sit for 10 minutes.  Peel the skin off and slice the peeled peppers, then use as a topping on your burger along with some avocado & a thick slice of tomato.
Here are a few more pics from our first leg of the trip (LA –> Winslow, AZ):