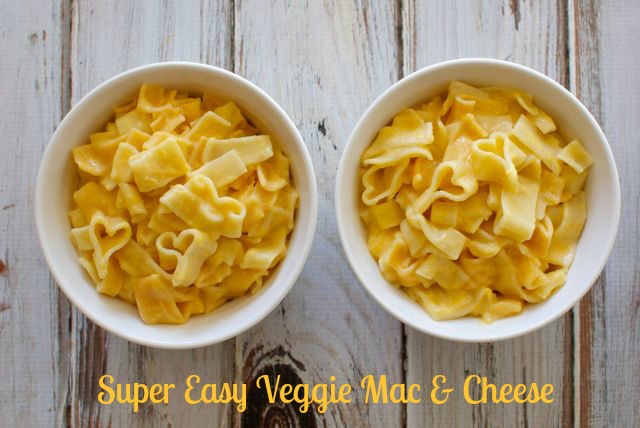 I love Mac and Cheese. Obviously.
But there's something I love even more: Quick, simple meals that are healthy and appealing to all of my family members.
Sure, meals that meet all these criteria are sometimes harder to achieve than I would have assumed oh, say five years ago. Thus I frequently search for quick & easy meal inspiration online, and always keep my fridge & freezer stocked with veggies that can easily blend into crowd-pleasing main dishes.
Like this Veggie Mac & Cheese, which has become one of our go-to dinners.
I've made many versions of healthy Mac & Cheese over the years, but this one is definitely the easiest, and the most customizable to a family's tastes.
Even better: it's only 6 simple ingredients, most of which you probably already have in your pantry, fridge and freezer.
This warm, comforting dish starts out like any homemade macaroni and cheese would – with butter, flour and milk. Then comes the healthy part, which you can make even healthier by adding frozen peas or broccoli, or a few handfuls of baby spinach.
What's key though is the butternut squash, which adds nutritional value and also helps maintain the creamy texture and orange color that everyone loves about macaroni and cheese.
The only way to keep this meal "quick and easy" is to use frozen butternut squash, since peeling, seeding, cutting and cooking a squash is somewhat time-consuming. Earthbound Farm's frozen squash is my favorite for two reasons:
It's always a vibrant orange, which shows me it's harvested at peak ripeness.
Because I trust that Earthbound Farm is growing and harvesting squash in a way that protects farmers, workers, plants, the environment, and consumers like me.
Another big bonus of this meal is that I can reserve a few spoonfuls of the pureed squash for Benny's baby dinner. So while the rest of us are digging into the hearty (literally "hearty" in this case, given the heart-shaped noodles ;)) pasta dish, Ben can enjoy something too.
So this really is a simple, quick and healthy dinner for everyone!
Super Easy Veggie Mac and Cheese
A quick and healthy way to enjoy a classic dish!
Ingredients
16 oz macaroni or other small noodle
2 Tbsp butter
2 Tbsp flour
2 cups 2% milk
2 cups shredded sharp cheddar cheese
1 package Earthbound Farm frozen butternut squash, cooked and pureed until very smooth
Salt & pepper to taste
Pinch of nutmeg (optional)
Instructions
Cook pasta according to package directions.
Meanwhile, place butter in a large pot and heat over medium heat.
Once melted, sprinkle the flour on the butter and stir for 1-2 minutes.
Whisk in the milk, ½ cup at a time and cook until the flour has disappeared into the milk and the mixture has thickened a bit - about 5 minutes. Stir constantly.
Stir in the pureed squash, then add the shredded cheese and continue to stir until mixture is smooth. Season with salt & pepper (and a pinch of nutmeg if desired).
When pasta has finished cooking, drain and immediately mix into the cheese sauce.
Serve right away, with extra shredded cheese on top if desired.
Notes
Add in any other veggies you like - frozen peas or a few handfuls of fresh baby spinach are my favorite additions!
This post is sponsored by Earthbound Farm. As always, thoughts and opinions are 100% my own. Thank you for helping to keep this blog alive and for supporting the companies I believe are changing our food system for the better.