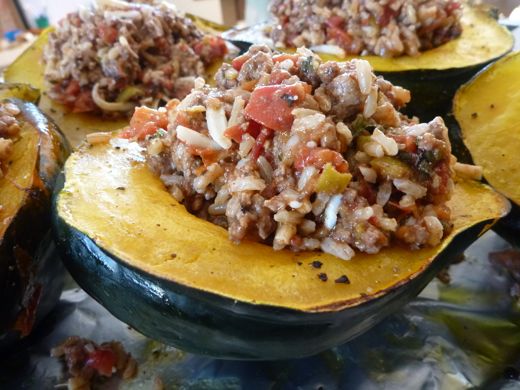 Here's another delicious recipe using one of fall's best offerings: squash. And like Southwest Stuffed Peppers, they're a whole meal in one!
Moroccan Stuffed Acorn Squash
Ingredients
2 Acorn squash (look for squash with a yellow spot)
¾ lb lean ground beef
2 cups cooked brown rice
15 oz can fire roasted diced tomatoes
1 tsp cinnamon
1 tsp cumin
Pinch of nutmeg
½ tsp smoked paprika (or regular)
2 Tbsp orange marmalade or apricot jam
Olive oil
Salt and pepper
Instructions
Preheat oven to 375.
Cut squash in half, scoop out seeds, and place squash halves on a foil-lined baking sheet.
Drizzle flesh of squash with olive oil and sprinkle generously with salt and pepper.
Place flesh-side down on baking sheet and bake for 20-30 minutes or until squash has softened and browned.
Meanwhile, heat 1 Tbsp oil in a large skillet. Add ground beef and let brown, stirring occasionally to break up the pieces. When no longer pink, stir in a sprinkle of salt, all the spices, and the jam/marmalade until the meat is evenly coated.
Add the cooked rice and canned tomatoes to the skillet and stir to combine.
Remove the squash from the oven, turn squash so it's flesh-side up, and stuff with the meat mixture. Top with shredded cheese of any kind (feta or mozzarella would be tasty) if you wish, and return to the oven for another 10-15 minutes.
Nutrition Information
Serving size:
1 stuffed squash half
Here's what the squash will look like after roasting, before stuffing.