Tacos are the ultimate meal, if you ask me. You can make them with just about any filling, they come together quickly, and most importantly – they're a guaranteed crowd-pleaser.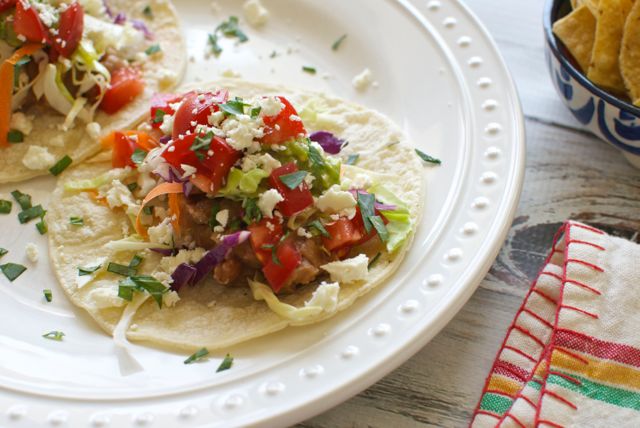 I have a handful of favorite taco recipes, but this is the easiest and quickest to prepare – and thus the one I make most often. These Pinto Bean Tacos with Cabbage Slaw and Feta are perfect for a busy weeknight when people are eating at different times, since tacos can be assembled as needed. They're also great for last-minute entertaining, especially if you serve them alongside several unique varieties of salsa and a big bowl of guacamole.
Don't have pinto beans on-hand? No problem. Black beans, white beans or even lentils work just as well (and varying what you use means you can make these even more often!). And you can take my topping suggestions or use whatever taco accompaniments your family likes best. These are tacos, so it's pretty much impossible to mess them up!
Pinto Bean Tacos with Cabbage Slaw and Feta
A quick and easy dinner to please a crowd of any size!
Serves:
4 main dish servings
Ingredients
1 can whole pinto beans, drained and rinsed
1 can refried pinto beans
2 cups chopped tomatoes
3 cups cole slaw mix
Juice of 1 lime
splash of Tapatio or other hot sauce
1 tsp honey
1 Tbsp olive oil
4 oz feta cheese, crumbled by hand
Taco sized corn or flour tortillas
Guacamole, Greek yogurt, cilantro and salsa for serving
Instructions
Place both types of beans, ½ cup of the tomatoes and 1 Tbsp of the lime juice in a small sauce pan. Stir and heat the bean mixture over low heat.
Meanwhile, whisk together the remaining lime juice, honey, olive oil hot sauce and a pinch of salt in the bottom of a medium sized bowl. Add the cabbage to the bowl and toss with the dressing. Set aside.
Warm your tortillas, either wrapped in a damp paper towel in the microwave or in a skillet.
Remove the beans from the heat.
Assemble the tacos by putting bean mixture in each tortilla along with crumbled feta, chopped tomatoes, feta cheese and your taco condiments of choice.