I'm not really a green bean person, so I usually turn to Brussels sprouts for my Thanksgiving veggie contribution. These shaved & sautéed Brussels sprouts are my absolute favorite, especially now that Trader Joe's sells these pre-washed, pre-sliced little sprouts!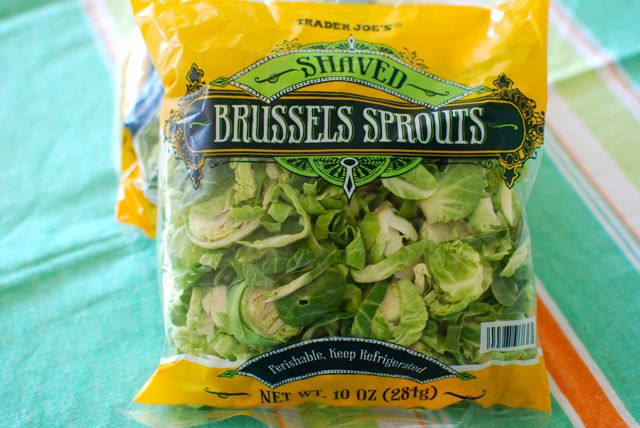 What used to be a labor intensive dish is now a snap. I can't tell you how much time this product saves me! 
This dish is ready in less than 10 minutes, and it's salty & sweet flavor combination will please even those who normally don't partake in the sprouts. My only real tip is to make a big batch!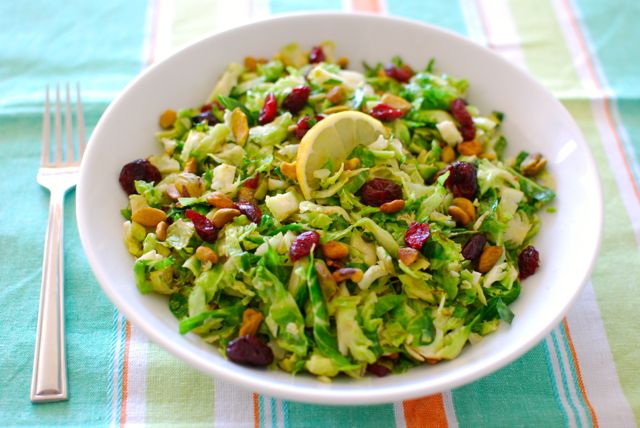 Sauteed Brussels Sprouts with Dried Cherries and Pistachios
Ingredients
2 Tbsp extra virgin olive oil
1 10-oz bag prepared shaved Brussels Sprouts
¼ cup shelled, salted pistachios
¼ cup dried cherries
Juice of ½ a small lemon
Salt & pepper to taste
Instructions
Heat the olive oil in a sauté pan over medium heat for 1-2 minutes.
Add Brussels Sprouts and sauté for about 5 minutes, or until they've turned bright green but are still crisp-tender.
Add the dried cherries and pistachios and sauté an additional minute.
Squeeze lemon over the top and toss to coat.
Serve hot.
Notes
Wait til the end - after you've tasted - to add the salt. The pistachio meats are very salty and you may not need any additional salt after tossing everything together.