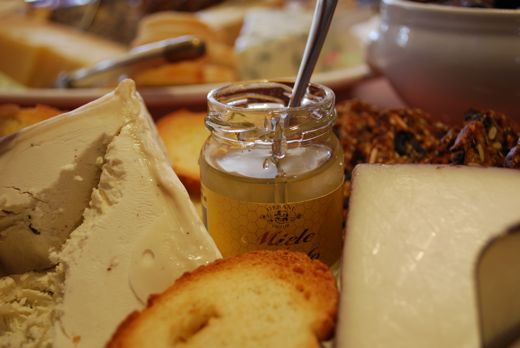 It's Black Friday, and though I did not partake in the shopping frenzy, I am starting to think about holiday gifts.  I love buying gifts from local shops and small businesses, not only because I want to support these retailers, but also because they offer such beautiful and unique goods.  Here are my favorite places to shop for the foodies in my life.
David Burling Fine Furniture.  This talented woodworker makes the most beautiful serving boards – perfect for anyone who likes to entertain or assemble cheese platters.  Every board is different and a true work of art.  Check out his Facebook page to see examples of these great gifts, then contact him through his website.  (David happens to be my relative, but I would make this suggestions even if he weren't!)
CSA Subscription.  Community Supported Agriculture (CSA) programs deliver fresh, local, organic produce directly from farmers to consumers.  In colder regions of the country, delivery might only be spring through early fall, but this is still a great holiday gift, as it will keep on giving throughout the year!
Etsy.  This giant website gives relatively unknown artisans the chance to display and sell their work online.  From recipe cards to tea towels to serving trays to really anything kitchen-related you can dream up, you'll find it on Etsy.
Mustards & Jams.  Every region has superb local jam, mustard, and sauce makers, so check the shelves of your local gourmet food stores to see what's available.  Or, order my current favorite – Mark & Stephan's, made here in LA – online.  I especially love their Ancho chili jalapeno mustard, as well as their Meyer lemon marmalade.
Williams Sonoma, specifically for the Pillivuyt Coupe Porcelain Soup/Pasta bowls.  Foodies value presentation almost as much as the food itself, and these dishes make presentation a cinch no matter what's being served.  They're part plate, part bowl, so they're great for pasta, salad, soup, stew, and casseroles.
Anti-fatigue kitchen mat.  For anyone who spends a lot of time in the kitchen, a soft mat is essential for preventing back, leg, and foot pain.  There are many brands, colors, and types of varying costs, so shop around (get ideas from Amazon, Home Depot, or peek behind the registers at your local grocery store) to find one you like.
More ideas coming later in the holiday shopping season!….