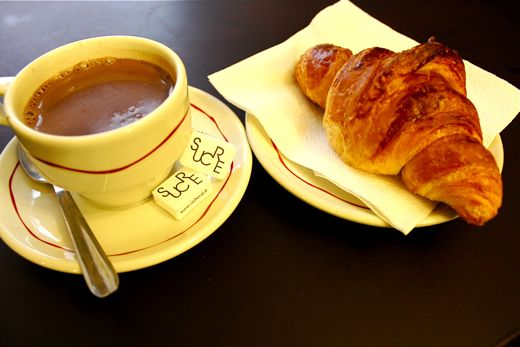 The following guest post is thanks to my friend Christa, who has traveled – and eaten – around the world, without compromising her health or budget.  I think we can all learn from her stories and tips!
Amelia and I have been friends since the 8th grade.  I'd like to think that her wonderful eating habits and delicious recipes have something to do with my presence in her life, but I'm afraid my influence was more on the opposite end.  I introduced her to grilled cheese sandwiches from Burgermaster (a greasy drive-in), the Starbuck's drive-thru, and Reese's Peanut Butter Cups.  At least we would do the Cindy Crawford workout video in my living room after indulging in these treats–because even at age 12, we recognized the importance of exercise!  Anyway, Amelia and I have remained fantastic friends over the years and we continue to share a love of food.  And thankfully for us both, my tastes have developed and I now enjoy plenty of healthy, nutritious food.
Eating well while traveling can be a challenge.  I have been fortunate enough to travel to many exotic places in the world, and along with meeting new people and seeing new cultures, one of my favorite things about travel is trying new foods.  I have had butter tea with monks in Sikhim India, seen (but not been brave enough to try) fried grasshoppers in Uganda, and had many a meal in Thailand where my seafood still had eyes to see me with!  Although eating on vacation can be a great time to experiment with new tastes and ingredients, it can also lead to over-indulgence and weight gain.  One of the ways to combat this dilemma is to eat purposefully.  I would never tell a traveler to skip out on croissants in Paris, but I would offer a few tips.
Go to a local grocery store and buy a few yogurts plus fresh fruit to keep in your hotel fridge.  This way, you can eat before you go sightseeing without having to eat out for breakfast or over-pay for a buffet breakfast in your hotel.  Then when you need a rest (and a bathroom), hop in to a café for a latte!
Bring your own water bottle and fill it up in your hotel.  You won't get dehydrated and you'll avoid paying for bottled water (unless of course the water is not safe to drink).
Walk everywhere (even up the 669 stairs of the Eiffel Tower).
Share meals with your travel companion.  Order one appetizer or salad and one entrée.  This way you get to try a variety of things from the menu without eating too much or spending too much money.
Pick one night of your travels to eat in your hotel room.  I'm not suggesting you eat from a vending machine – instead, make dining in an adventure.  Go to a local market to buy fresh baked breads, cheese, and produce.  Visit the nearest grocery store and try something you've never eaten.
I recently enjoyed a trip to Paris.  The city is beautiful and romantic; old with a hint of modern.  The architecture is mesmerizing and the museums abundant.  But what really amazed me about Paris was the food.  I had more delicious meals than I can begin to describe.  There were pastries every day.  Pomme frites (French fries) dipped in homemade ketchup.  Rich and thick hot chocolate.  Nutella-filled crepes.  Roasted duck that melted in my mouth.  And more buttery croissants than I'd like to admit.  But even in Paris, I followed my own advice.
Each morning, I enjoyed yogurt in tiny glass jars from the nearest grocery store.  A few hours later, I sipped on café au lait at a sidewalk café and watched Parisian life unfold.  For lunch, my favorite treat was a croque madame with a side salad if I was feeling "healthy" and with pomme frites if I "needed" to indulge.  Having eaten a heavy meal for lunch, I often found that eating light for dinner was best.  My travel companion and I frequently shared a fresh salad and cheese plate served, of course, with a baguette and butter.  One of my most memorable meals though was our dining-in event: we enjoyed brie cheese on demi baguettes and macarons in every color all served up on a metro map of Paris on our bed.   We got to lounge in our pajamas while we ate and rested our tired feet.
Have you ever had a croque monsieur or croque madame?  Since my return from Paris, I have experimented with my own versions.  Certainly I do not have the same cheese or béchamel sauce to dip my bread, but I do make a mean grilled cheese and sometimes serve it with a fried egg on top!  In fact, I loved the croque madame so much, I have started to put eggs on lots of things.  Soft eggs taste delicious over black beans or beside roasted brussel sprouts.  Yam tacos taste even more delicious with a runny egg on top – they create a rich and creamy sauce to bind all the flavors.  Try an egg on top of your meal.  And be inspired by travel.  I pretend that I've grown up and become more dignified in my tastes, but in reality, I still love a grilled cheese sandwich.  Now they're just more expensive – they come from Paris, not Burgermaster!
Next time you're in Seattle, visit Café Press for the Parisian experience.  The croque monsieur is to die for!
Here are some more tips for vacationing without weight gain.