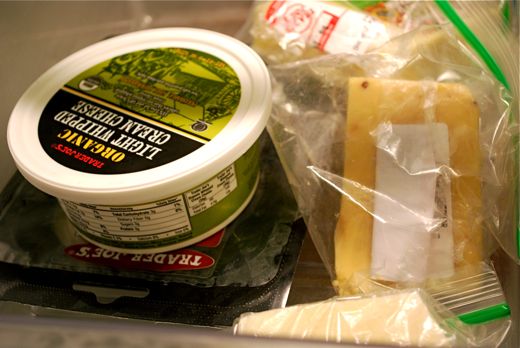 Like most people, I love Trader Joe's.  You never know what new cool product you're going to find on your next grocery trip – and they seem to know exactly what I'm looking for before I even know!
That being said, there some common misconceptions about Trader Joe's that I wanted to clear up.
What is NOT true about Trader Joe's
Everything in the store is healthy.  Candy is still candy, chips are still chips, chicken nuggets are still chicken nuggets, no matter where you buy them.
The meat is higher quality than at other grocery stores.  Much of the meat & poultry at TJ's is raised with routine antibiotic use.  Sign this petition to encourage them to change!  And/or always buy organic.
The eggs are from happy hens.  Yes all Trader Joe's eggs are "cage-free," but that doesn't mean much, as most egg farms have over-crowded barns instead of cages.  It's pasture-raised, free-range, organic eggs (all 3 of those on a label) that we should buy when possible.
What IS true about Trader Joe's products
Do not contain genetically modified organisms (GMOs).  Awesome!
Do not contain artificial colors, flavors, or preservatives.  Which means TJ's is a great place to buy the occasional packaged snack or treat.
Do not contain MSG (although you may find other variations of MSG in packaged snacks).
All seafood will be from sustainable sources by December 31, 2012.  Good news for the planet and your health.
No artificial trans fast.  Naturally-occurring trans fats may be present, but none are added.
Other Fun Trader Joe's Facts
The great value comes from buying direct from suppliers, putting their own label on foods, buying in volume, using local suppliers when possible, and not charging suppliers a fee that's then passed onto customers.
10-15 new products are introduced every week!
Trader Joe's dates back to 1967!  (even before that, but that's when the name became Trader Joe's).