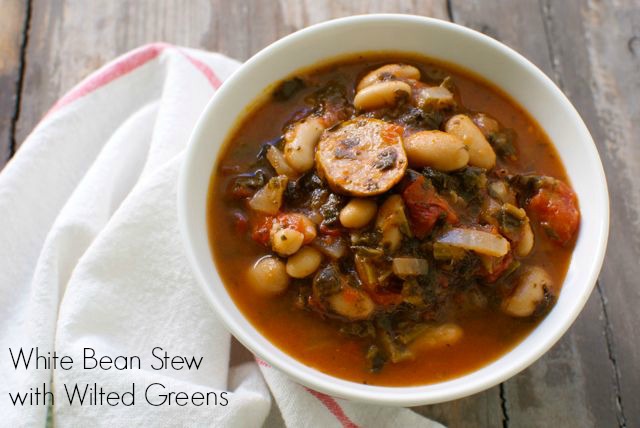 I can't even begin to count how many times I've made this stew, or some version of it.
Hearty, healthy, quick-to-prepare and made entirely of pantry staples – this recipe has saved me time and again when it's nearly dinner time and I have no plan.
What's especially nice about this white bean stew is its versatility. In the same amount of time (about 30 minutes) you can make it…
With whatever beans you have – garbanzo beans, white beans, pinto beans, kidney beans, etc.
With any greens, frozen or fresh – kale, chard, collards, spinach, or even Spring Mix.
With additional veggies if you like – I sometimes add roasted red peppers, shredded carrots or sliced zucchini.
With toppings like crumbled goat or feta cheese, Greek yogurt, or grated Parmesan cheese.
Vegetarian, simply by leaving out the sausage.
Below is the (rough) recipe I use most often, but you can definitely customize it depending on the ingredients you usually have on-hand in your own kitchen.
If you make this anytime soon, you can bet we're probably eating it at the very same time 😉
White Bean and Sausage Stew with Wilted Greens
A quick and versatile soup that lets you get dinner on the table without having to grocery shop!
Ingredients
2 Tbsp extra virgin olive oil
1 package organic mild Italian sausage (I use Applegate), sliced
1 large onion, roughly chopped
2 tsp dried thyme
½ cup dry white wine (optional)
14-oz can crushed fire-roasted tomatoes
1 14-oz can diced tomatoes
2 cans white beans or garbanzo beans
1 5-oz bag baby spinach (or other green) or 8 oz frozen chopped greens
½ tsp red pepper flakes (optional - leave out if making for young kids)
Instructions
Heat a large heavy-bottomed pot over medium heat.
Drizzle oil in the pan and add chicken sausage slices. Cook 3-4 min or until browned then remove to a bowl and set aside.
Pour the other Tbsp oil to the pan then add the onion and cook for 4-5 minutes or until softened.
Add the thyme and wine (if using) and cook 1-2 more min.
Add the tomatoes, beans, and cooked sausage back to the pot and cook until simmering.
At the very end, stir in the greens and cook until wilted.
Season with salt & pepper to taste (I don't add any additional) and red pepper flakes if desired.
Serve however you like!