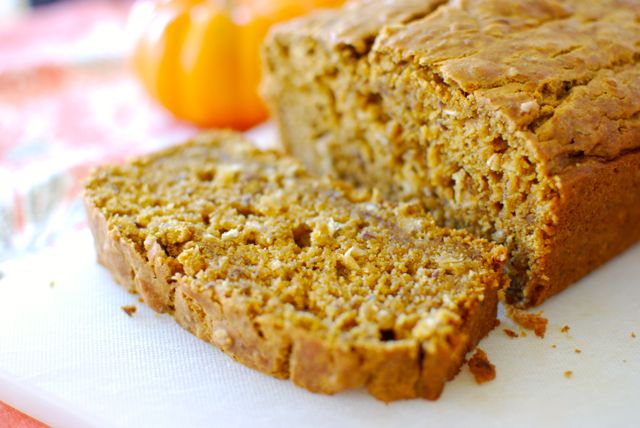 I'm not vegan, but do I like experimenting with new ways to make classic recipes.
So when Maggy from Three Many Cooks (a self-proclaimed "Vague-an") recently told me about her vegan pumpkin bread and how much she loved it, I decided to give it a whirl and WOW! – was I impressed. It's not just vegan; it's also sweet, moist, rich, delicious and tastes like everything I love about fall.
I made a couple of changes to the recipe, so the bread would be a little lower in fat and sugar (because I knew I would eat more than one piece at a time) – and it still tastes every bit as good.
Vegan or not – you will love this pumpkin bread!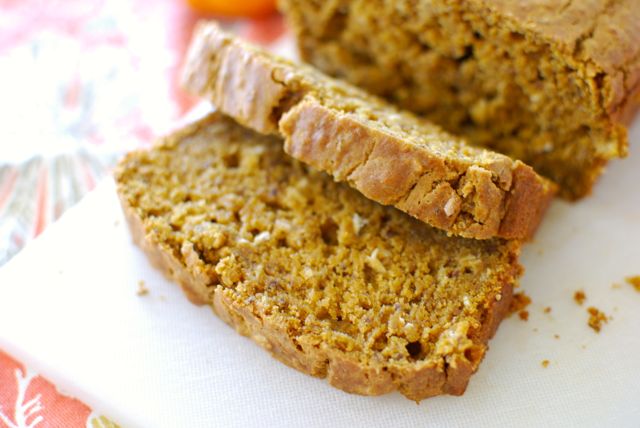 Vegan Pumpkin Bread
Ingredients
3½ cups whole wheat pastry flour
1 cup old-fashioned oats
1 tablespoon baking powder
2 teaspoons each: ground ginger and cinnamon
1 teaspoon each: baking soda and salt
½ teaspoon ground cloves
1 can (13.5 ounces) light coconut milk
1 can (15 ounces) pure pumpkin
½ cup coconut oil
¼ cup applesauce (or more canned pumpkin)
1½ cups brown sugar
Instructions
Grease two 9 x 5 inch loaf pans with nonstick spray and preheat oven to 350 degrees.
Mix flour, oats, baking powder, ginger, cinnamon, baking soda, salt, and cloves in a large bowl. Meanwhile, whisk the coconut milk, pumpkin, coconut oil, and brown sugar in a medium bowl.
Gently beat wet ingredients into dry ingredients until smooth; divide evenly between prepared pans and bake until golden brown and a cake taster comes out clean, about 45 minutes (if after 45 minutes, bread is still not cooked through, turn heat down to 325 and continue to check ever 5-7 minutes).
Remove from oven, let cool for 5-10 minutes. Run a knife around the pan to loosen the bread and then turn onto a wire rack to cool.
Slice and serve warm or room temperature.
Notes
If you don't have ground cloves, reduce the cinnamon & ginger amounts to 1 teaspoon each and skip the cloves. Add 2 tsp pumpkin pie spice instead.
Nutrition Information
Serving size:
1 piece (1/30 of recipe)