I'll admit: I was not looking forward to lunch-packing when Lucy started preschool in September. But I've actually had so much fun with it! And it's much easier than I anticipated – partly because we usually have kid-friendly leftovers at home and partly because Lucy is loving little bowls of finger foods.
Here are a few of the lunches she's enjoyed in recent weeks.
Veggie pizza, edamame, grape tomatoes, mini apples and kettle corn.
Mini whole wheat bagel with cream cheese & ham, fresh pear, and homemade trail mix.
Whole wheat pita with hummus & olives, tomatoes, edamame, cheese stick and homemade granola bar.
Applegate chicken-apple sausage, edamame, raspberries, homemade trail mix.
Spinach bolani (Afghan spinach pancake I buy at the farmer's market), tomatoes, edamame, Stonyfield yogurt and figs.
Carrots & jicama with yogurt dip, Crunchmaster cheese crackers, organic cheese stick, raspberries and mini apples.
Zucchini bread, butternut squash cubes, avocado and raspberries.
Baguette slices with butter, roasted Parisian carrots, apple slices and grapes.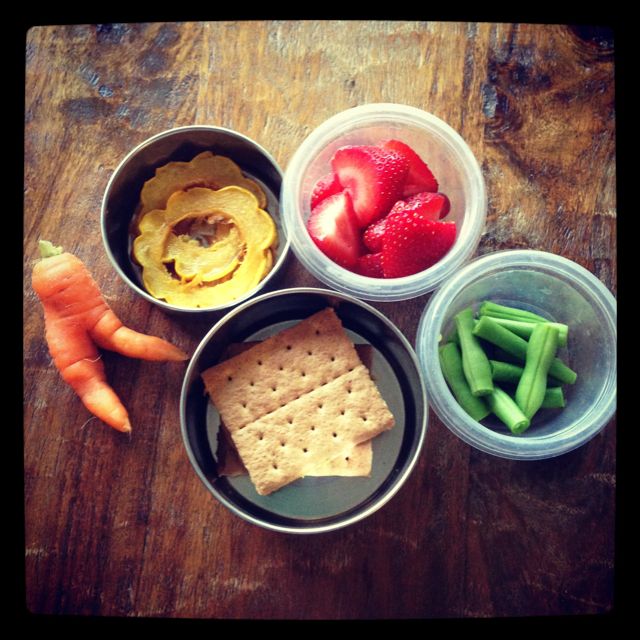 Graham crackers with peanut butter, delicata squash rings, strawberries, green beans and a carrot (harvested by Lucy!).
Plain Greek yogurt, Earthbound Farm cranberry pecan granola and apple slices.
Follow me on Instagram for more ideas!