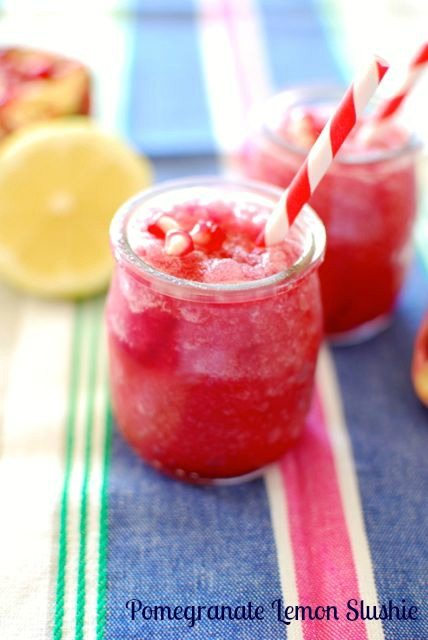 I was going to bust a food myth here today, but after making this yesterday I couldn't wait to share it with you. So the food myth must wait!
The soft texture of this frosty drink is reminiscent of a 7-11 Slurpee, but the taste (and all-natural ingredients) are far better. It's a little on the tart side, but sweet enough to satisfy a sweet tooth – and it makes a great thirst-quencher. Or, spike it with a little vodka for a perfect winter cocktail.
If you live in a place where the weather's already turned cold – make this slushie anyway. Just have a cup of hot tea standing by 😉
Pomegranate Lemon Slushie
Ingredients
1 cup Pomegranate juice
¼ cup lemon juice
2 Tbsp agave nectar or apple juice concentrate
8-10 ice cubes
Instructions
Combine all ingredients in a high-powered blender and pulse until ice is crushed.
Blend on high until slushie is smooth and free of ice chunks.
Taste for sweetness, and sweeten a little more if desired.
Serve immediately.
Notes
Spike with vodka for a perfect winter cocktail!