Who doesn't love a warm sandwich on crusty bread with gooey cheese seeping out the sides?  Here's a great easy recipe from Bon Appetit.  I like using a smoked cheese here — like smoked gouda or provolone — and you can easily substitute oven roasted turkey breast for shredded chicken.  After prepping the ingredients, all you do is assemble:
then wrap each sandwich in foil: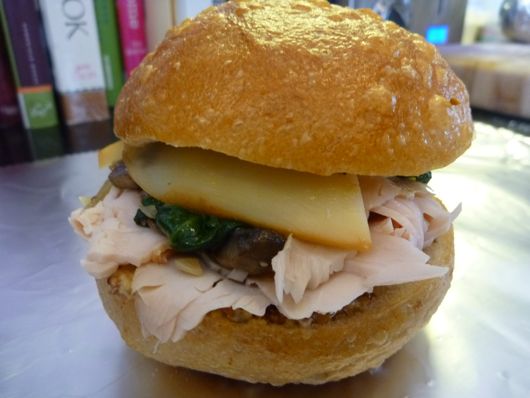 and bake at 400 for 20 minutes.  YUM.
You will have some extra bread crumbs (because you've pulled out some bread from the inside of the rolls):
which you should definitely use to top the most delicious Butternut Squash Gratin with blue cheese (no need to use food processor, just tear bread into little pieces with your fingers):
If you don't care for blue cheese, sub goat cheese.  What a heavenly side dish, or vegetarian entree!