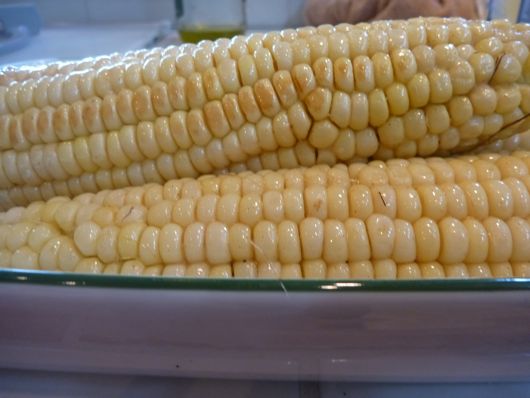 Corn is starting to make it's way into farmer's markets and grocery stores, which means summer is really on the way.  Celebrate by sinking your teeth into roasted (or grilled) corn on the cob, which I recommend slathering with my Maple Mascarpone Spread, Cinnamon Honey Butter, or Chili Lime Sauce.
Roasted Corn on the Cob
4 ears corn, husks removed
Kosher salt
one of the following delicious spreads
Preheat oven to 400.  Place corn on a baking sheet coated with nonstick cooking spray and sprinkle with coarse salt.  Roast for 15- 20 minutes, shaking sheet a couple times during roasting to turn corn, until corn is tender and there are some brown spots.  Put one of the spreads below in the bottom of a baking dish and roll the hot corn around in it.  Serve when it's cooled a little.
To Grill Corn on the Cob (instead of roasting): Preheat grill to medium. Peel back the husks of the corn without removing them. Remove the silks and recover the corn with the husk. Soak in large bowl of cold water for 30 minutes. Remove corn from water and shake off excess. Place the corn on the grill, close the cover and grill for 15 to 20 minutes rotating every 5 minutes. Let cool a little bit then unwrap the corn and brush with one of the spreads below.

Maple Mascarpone Spread
2 Tbsp Mascarpone Cheese
2 Tbsp Maple Syrup
Generous pinch of cinnamon
Generous pinch of salt
Let cheese come to room temperature, then mix all ingredients with a spatula until well-combined.  Follow instructions above for slathering on corn.
Cinnamon Honey Butter
2 Tbsp butter
2 Tbsp honey
1/4 tsp cinnamon
1/4 tsp salt
Let butter come to room temperature, then mix ingredients together with a spatula.
Chili Lime Sauce
Juice of one lime
10-ish dashes of hot sauce (I like Tapatio or Chipotle Tabasco)
1 Tbsp olive oil
1/2 tsp coarse salt
Whisk ingredients together in a small bowl, then follow instructions above to roll corn in the chili lime sauce.
Herb and Parmesan Rub
1/4 cup grated Parmesan cheese (use a good one here, not the green shaker)
1/4 cup finely chopped fresh herbs, like basil or Italian parsley
1 Tbsp olive oil
1/4 tsp salt
In a baking dish, mix the grated cheese, salt, and herbs.  Rub the olive oil on the corn with your fingers, then roll around in the cheese-herb mixture.  Enjoy!