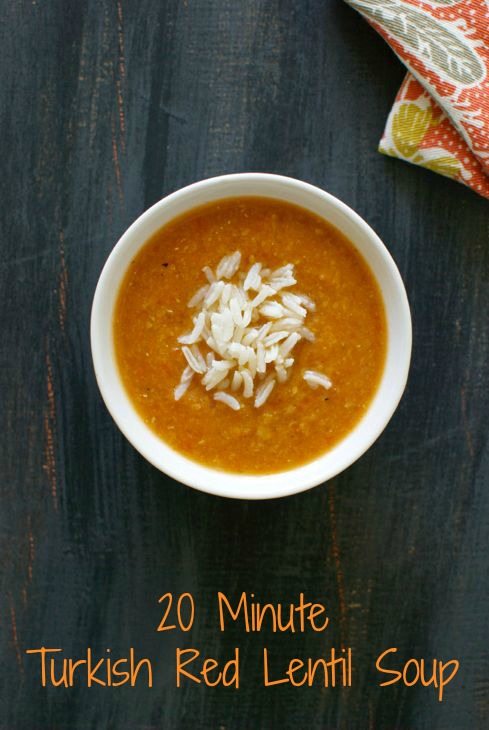 You know those recipes you find and then make again and again and again?
This Red Lentil Soup is one of those.
Last summer my good friend brought us a big batch of this soup a few days after Ben was born. It was an instant hit, so I asked for the recipe and have been making it at least once a week ever since.
The flavors in this soup are so robust and so delicious, you'd never guess it only cooks for 20 minutes. It's perfect for the days you look at the clock only to realize it's already 5:30 and you have nothing planned for dinner. Not only is Red Lentil Soup quick to prepare, but it's also made from pantry and fridge staples you may have on-hand anyway.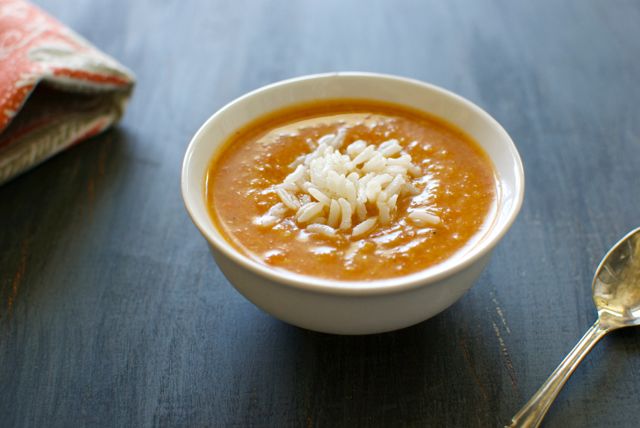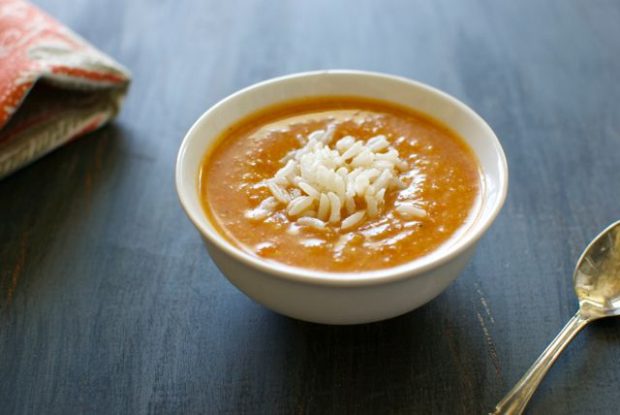 Even better – kids love this soup. Though Lucy is not normally a big fan of soup (or any other "mixed" dish), she'll gobble several bowls of this whenever I make it. She loves sprinkling on the rice and squeezing the lemon in herself, which I find totally adorable ;).
Let me know if you try and love this soup as much as we do!

20 Minute Red Lentil Soup
An easy, fast and super delicious soup for even the busiest nights!
Ingredients
1¼ cups red lentils (rinsed and picked through for little stones)
1 large onion, chopped
3 carrots, chopped
2 cloves garlic, chopped
1 15-oz can diced tomatoes
1 Tbsp tomato paste
1 tsp ground cumin
¼ tsp cayenne pepper
6 cups vegetable broth
2 cups cooked white rice, for serving (optional)
Lemon wedges, plain yogurt for serving (optional)
Instructions
Place all ingredients (except optional lemon, yogurt and rice) in a medium-sized pot and bring to a boil.
Reduce heat to low and let simmer (uncovered or just partially covered) for about 20 minutes, or until vegetables and lentils are very soft.
Remove the pot from heat, and carefully blend with an immersion blender (a.k.a. stick blender) for 10-15 seconds until creamy but not totally pureed.
Place a little rice in the bottom of each bowl and some soup on top. Serve with lemon wedges and dollops of plain yogurt, if desired.
Notes
If serving with rice, set your pot of rice to cook before you start on the soup. It should be ready at the same time as the soup.
Adapted from Turkish Red Lentil Soup,
Whole Planet Foundation