When I pack Lucy's lunch for preschool, I try to include mostly whole, unpackaged foods. But even at the tender age of 2.5, Lucy likes the "cool factor" that store-bought foods often offer (Oh, marketing). So once in awhile, I throw in something new and exciting. Luckily, plenty of cool – yet still healthy – packaged foods do exist. Here are a couple of our recent favorites.
Bolthouse Farms Shake Downs
These are just regular baby carrots, but with a seasoning packet that adds flavor & punch to the veggies before you open them. It's kind of like having a dip – only no messy dip. I'd like these more if they were organic, but as is they still offer a unique twist to plain baby carrots.
Annie's Chocolate Chip Bunnies
Like every kid, Lucy loves Annie's bunnies. The chocolate chip flavor is my favorite because as cookies/animal crackers go, they're pretty low in sugar. So though she feels like she's eating a cookie, I don't feel like I've given her one.
Homemade Granola Bars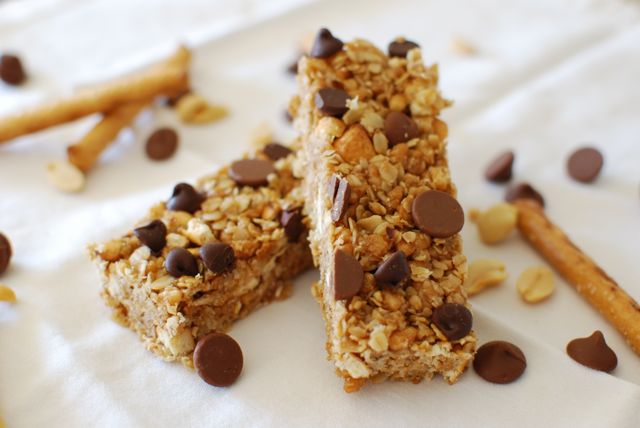 OK, so these are homemade. But they're so much tastier than packaged granola bars that Lucy doesn't notice their lack of shiny packaging. Especially when I put them in a cute little reusable pouch:
Actually, Lucy will eat just about anything when it comes inside a Neat-os pouch. Apparently unzipping the zipper (over and over) is really fun 😉
What are your own favorite lunch products?