Eating well is a great way to improve your health, but even healthy foods can create a lot of waste that ends up in our landfills, oceans and environment.
Last spring I read the book Zero Waste Home, and have since made some changes at home that have made a big dent in the amount of waste we produce. Here are a few of the waste (and cost!) reducing habits we've developed. They're all easy and you can do them too!
1. Buy foods in bulk instead of in packaging. This greatly reduces the amount of plastic waste that goes into our landfills, and protects your family from the toxins that can leach from plastic into your food. Awhile ago I bought these cloth bags to use for fresh produce and bulk items like oats, nuts, seeds, grains, dried fruit, and the occasional chocolate or candy treat. I never have to use plastic bags anymore.
When I get home from the store, I just transfer whatever I've bought into glass jars and then put the cloth bags into my reusable grocery bags so I remember them next time I go shopping.
Great places to find bulk foods: Sprouts, Whole Foods, Henry's, Wild Oats and other natural food stores & co-ops.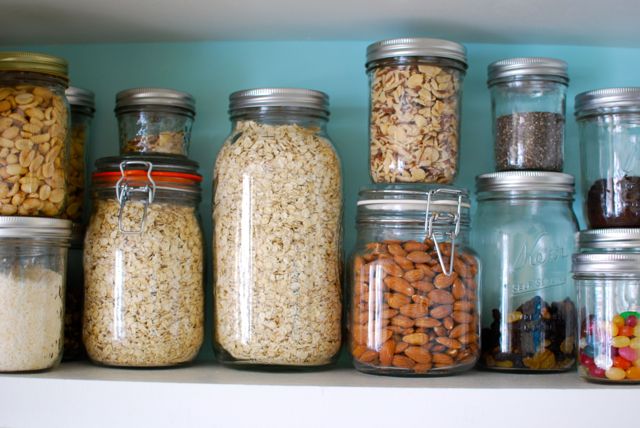 2. Buy cereal & dry goods in bags instead of boxes. When you don't have access to bulk items or want some more conventional cold packaged goods, look for foods that come in bags instead of boxes. These tend to include a lot less packaging and thus save waste and energy.
Brands I love: Nature's Path, Three Sisters, Arrowhead Mills, Bob's Red Mill. 
3. Make your own frozen fruit. It's easy to buy fresh produce at the farmer's market or grocery store (using your cloth bags!) and freeze it yourself for smoothies and future cooking projects. I still use plastic ziploc bags for freezing, but can reuse them many times before throwing them away.
Side bonus of making your own: you can be sure your frozen produce is local, not from far away places.
4. Refill hand and dish soap containers instead of buying new ones. Common Good & Co. makes glass hand & dish soap containers (as well as cleaner & laundry detergent) and has refilling stations around the country so you can fill up when you run out. My closest refilling station is 40 minutes away, so instead of driving there all the time, I go twice a year with some big jars so I can stock up.
Note: you can also buy plastic bags of soap to refill containers you already have – Method and Mrs. Meyer's both sell these soap refill bags.
5. Choose eco-friendly sponges. Regular sponges are made from petroleum foam and can contain heavy metals, polyether, polyurethane, harsh adhesives, PVC and BPA. Not exactly "clean!" Luckily there are a number of eco-friendly choices on the market now. I've been buying these Honest Company sponges lately, which are made from cellulose and walnut shells and work really well.
Other good sponge choices: Twist, Natural Value, or Scotch Brite Greener Clean.
Making even a few of these simple changes at home can have a big impact in the waste your family produces.
Any other ideas for reducing waste at home? I'd love to hear your suggestions!