This is the last Salad Month post, people!!
I feel somewhat nostalgic, as it's been so fun to create and share such a variety of salads over the last five weeks. But I'm also excited to get back to some myth-busting and food trend-watching 🙂
Our final salad recipe and post is courtesy of my friend Brandi Evans, founder of Bran Appetit.  Over on her blog, you'll find Brandi whipping up delicious, (mostly) healthy food that's never complicated or intimidating. Her Chicken Enchilada Dip is Tyler's favorite on game days and I love experimenting with all her homemade coffee creamers – so much healthier than the chemical bottled stuff!
I don't know about you, but salads can get pretty boring sometimes. I feel like I go through phases where I either have crazy exciting salads or I don't want them at all.
Lucky for us, it's citrus season! This is the only time of year that makes me not miss tomatoes so much, because oranges can kind of take the tomato's place in my salad bowl.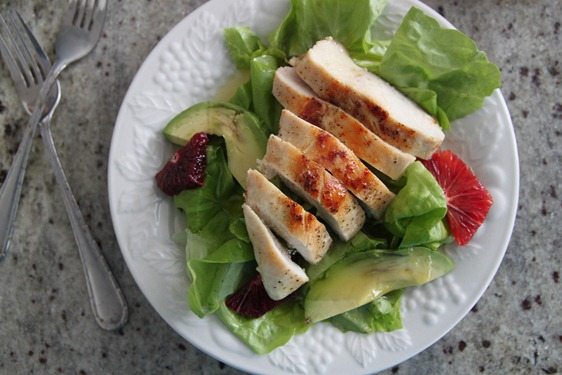 Besides having something sweet or tart on my salads, my favorite thing about making salads at home is whipping up homemade salad dressings. Sure, we have the token bottle of Ranch dressing in the fridge and a few others that are worth the money, but usually, store bought dressings just aren't very good.
So for this salad, I was already set on the chicken + blood orange + avocado mix. I just needed a new dressing to punch it up a bit. And since I already had a sweet/tart flavor from the orange and creamy richness from the avocado, I knew I needed something with a kick.
Enter wasabi. I know – it sounds strange, but trust me. It works!
I whisked some wasabi with some olive oil, orange juice, and ground ginger for a little heat to balance out the sweet. That burn from the wasabi was just enough spice to heat up the salad a bit and balance out the sweetness from the oranges.
Looking for an little kick in your salad? Wasabi just might become your new best friend.
Avocado and Blood Orange Chicken Salad with Wasabi Dressing
The perfect salad to break you out of a winter veggie rut!
Ingredients
2 boneless, skinless chicken breasts
1 Tbsp olive oil
1 tsp salt
1 tsp garlic powder
½ tsp black pepper
4 cups butter or bibb lettuce, washed and chopped
2 blood oranges, peeled and sliced
1 avocado, sliced
½ cup olive oil
⅓ cup orange juice
1 and ½ tsp wasabi
½ tsp dijon mustard
½ tsp salt
¼ tsp pepper
¼ tsp ground ginger
Instructions
In a medium bowl, coat the chicken with the 1 Tbsp olive oil, salt, garlic powder, and black pepper. Heat a skillet over medium heat and add chicken to the pan. Cook 4-6 minutes (depending on the size of your chicken) until browned, then flip over and cook the other side for another 4-6 minutes until the chicken is cooked through.
While the chicken is cooking, divide the lettuce, blood oranges, and avocado between two plates.
In a bowl, whisk the olive oil with the orange juice, wasabi, dijon mustard, salt, pepper, and ground ginger.
Slice the chicken, place on top of the salads, and drizzle with the dressing before serving.