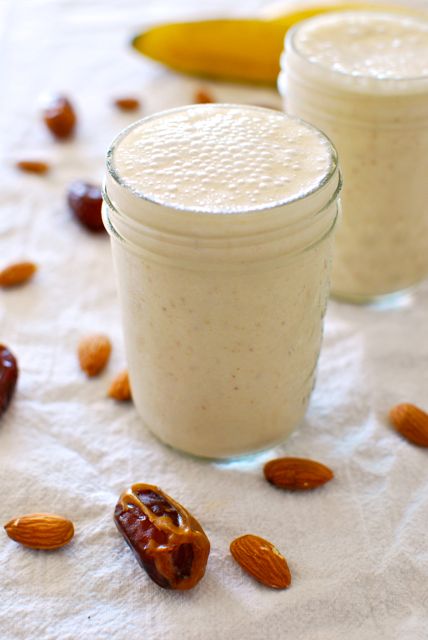 It's summer and there are tons of amazing fruits in season. But sometimes I just want bananas!
This Banana Almond Date Shake is more like a smoothie nutritionally (woohoo!), but it's simple ingredients make it thick, creamy and sweet enough to make you feel like you're drinking a shake. Could there be anything better?
Well, yes! A NEW KITCHENAID BLENDER to help you make this frosty beverage!!
KitchenAid is kindly giving away their awesome 5-Speed Diamond Blender – in one of 14 colors, to be chosen by the winner – to one lucky Eating Made Easy reader!
GIVEAWAY ENDED
You can enter up to four times by commenting on this post, liking EME on Facebook, sharing an image on Pinterest or following EME on Instagram. Simply click the following link to enter via PromoSimple!
Banana Almond Date Shake
A thick and creamy smoothie that tastes every bit as good as a shake!
Ingredients
¾ cup almond milk
½ cup organic Greek yogurt
5 pitted dates (if using Medjool, which are very large, 3 may be enough)
½ tsp vanilla extract
2 Tbsp rolled oats
12 raw almonds
2 frozen bananas, broken into chunks
Ice cubes to taste
Instructions
Combine almond milk, yogurt, dates, vanilla, almonds and oats in a blender. Pulse a few times.
Add banana chunks and a few ice cubes and blend until thick and smooth. If you like a thicker consistency, add more ice cubes or another few chunks of banana.
Thank you to KitchenAid for sponsoring this Diamond Blender giveaway!