Nearly every Saturday morning for most of my 20's, my roommates and I would head to our favorite coffee shop to lounge on the deck, drink frosty blended coffees, and laugh about whatever had happened the night before. It was a glorious routine, and one that we all miss.
Now we're all moms – moms with a lot less time to lounge but an even bigger need for delicious forms of caffeine 🙂
My solution = whipping up all sorts of blended coffees at home.
With just a few pantry ingredients and some cold coffee, you can easily make your favorite gourmet coffee shop drinks right in your own kitchen. Homemade versions are significantly cheaper and you also have more control over the quality of the ingredients.
One of my favorite frosty drinks lately is this Chocolate Coconut Blended Coffee.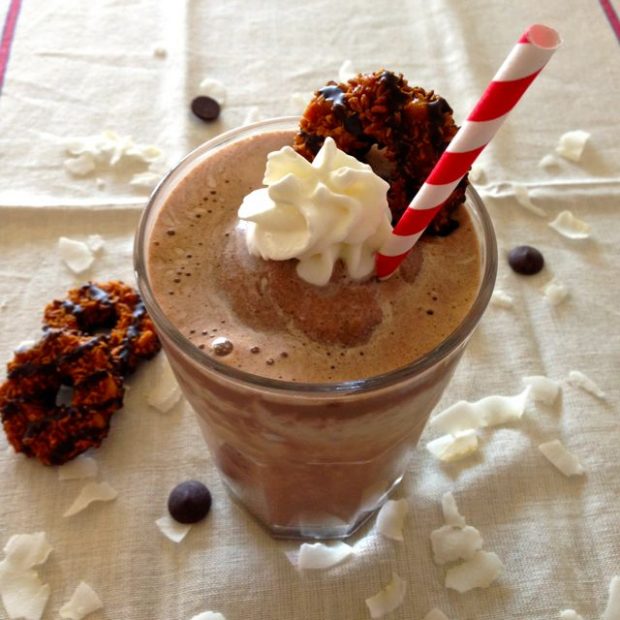 It's rich, creamy – and especially good when you top it off with a Samoa Girl Scout Cookie and a dab of whipped cream 😉
Chocolate Coconut Blended Coffee
A chocolatey, frosty coffee drink perfect for a hot summer morning or afternoon.
Ingredients
10 oz cold or room temperature brewed coffee
3 Tbsp powdered nonfat milk (I use Organic Valley)
2 Tbsp powdered sugar
1 Tbsp cocoa powder
½ tsp vanilla extract
¼ cup flaked or shredded coconut
2 Tbsp chocolate chips
Lots of ice cubes
Instructions
Blend all ingredients, except the ice and chocolate chips, in a blender until combined.
Add a few handfuls of ice cubes and blend until smooth. Add more ice if you like a thicker consistency.
Add chocolate chips and blend for 10-20 seconds or until they're in small pieces. (Leave chocolate chips out if you want a completely smooth beverage).
Notes
If you like a sweeter drink, add ½ a frozen ripe banana.
Have you ever made blended coffee drinks at home? What are your favorite combinations?