The jury's still out on whether rhubarb is a fruit or vegetable, but one thing's for sure: it's delicious.  Though the leaves are toxic, the bright pink stalks can be turned into desserts, sauces, jams, dressings and more.  A little chopping and a little sugar is all you need to create a summery treat that will quickly become a family favorite.
I grew up eating rhubarb sauce, rhubarb crisp, and strawberry rhubarb ice cream every spring and summer – since it grew like mad in my mom's Seattle garden.  To this day it's one of my favorite pieces of produce, and whenever I'm home visiting (like now) I can't resist doing some rhubarb harvesting.
This time, Lucy came out to help me.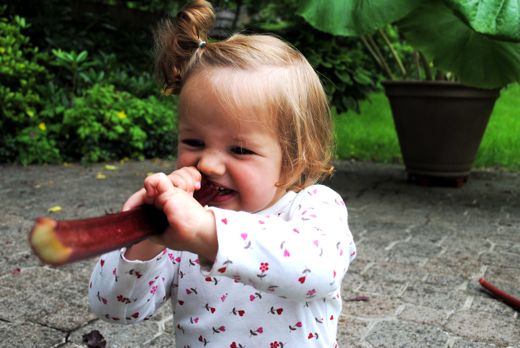 I forgot to tell her that raw rhubarb stalks are TART!  She learned that on her own pretty quickly:
So we went inside and started cooking these with some sugar.  First we made rhubarb sauce, using my friend Kari's technique of using apple juice in place of water.  I like my rhubarb dishes pretty tart, so I didn't add any additional sugar, but you can sweeten to taste.
This sauce is done in less than 20 minutes, and can be added to yogurt, ice cream, smoothies, or used in place of syrup/jam on pancakes, waffles, or toast.  I like to eat it with yogurt and granola.
We also made a rhubarb crisp, which got eaten so quickly by my dad and Tyler that I didn't get a chance to take pictures!  I make all my crisps like this, but add quite a bit more sugar when I'm working with rhubarb (~ 3/4 cup instead of 1 Tbsp added to the fruit–it's that tart!).  This strawberry rhubarb crisp recipe from Ina Garten – pictured below – is also one of my favorites.
And if you're up for using rhubarb in a savory recipe, try my friend Amie's Spring Quinoa Salad with Ramp and Rhubarb Dressing.
I haven't tried this one yet, but she's an inventive lady and rhubarb in dressings is generally fantastic, so I have this on my cooking-to-do list.
Any rhubarb recipes you'd like to share too?  I'd love to hear about what you do with it!