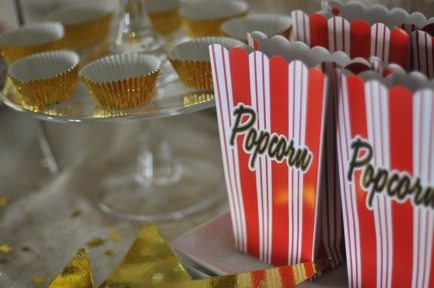 Since I haven't seen a movie in a year and don't own a TV, I need you to throw a little Oscar party and invite me over!  Don't worry, I've done all the food research for you, and compiled a list of delicious Oscar party foods to nibble on while we watch.  Here are some fabulous ideas you won't be able to resist.  Look forward to it!
1.  Popcorn, pictured above.  Buy these popcorn containers at a crafts store and stuff them with your favorite kind of popcorn.  In those little gold cups, place a few little candies that people can easily pick up and take. From Cupcakes and Cashmere.
2.  Dress up store-bought cookies – or any other snack – in fancy looking gold dishes (find cheap ones at Michael's or another craft store). From Hostess Blog.
3.  Serve warm soft pretzels on a jewelry hanger or stand – with cheese dip, mustard sauces, or salsa.  You can just pop them in the oven and use store-bought sauces if you're short on time.  From Everyday Celebrating.
4.  Make a "popcorn cake" – a.k.a. a big, pretty, Oscar-style rice krispie treat.  Just mix marshamallow creme with popcorn and press into a greased bundt pan.  Add sprinkles or candies for color.  From Cookies and Cups.
5.  Set up a Candy Bar with movie candy type offerings.  Use cool glass containers or bowls, tie licorice with ribbon or paper napkin holders, and make little bags of small candies.  If you're short on containers, use mason jars which are inexpensive and reusable.  From Celebrations at Home.
If you're short on time (or not that crafty), keep it simple with a Candy Bar like this from Somewhat Simple.
6.  Can't forget about the cocktails.  Here's a grown-up take on the bright blue Slushies you used to find at theaters.  From Food Network.
7.  For a quick and easy main dish, try this 5 minute Mac and Cheese (No, it's not Kraft Easy Mac).  From Picky Palate.
8.  For dessert, Double Chocolate Snickers Cookies.  If Snickers aren't your candy of choice, pick from on of the many candy bar cookies on Picky Palate's site.  From Picky Palate.