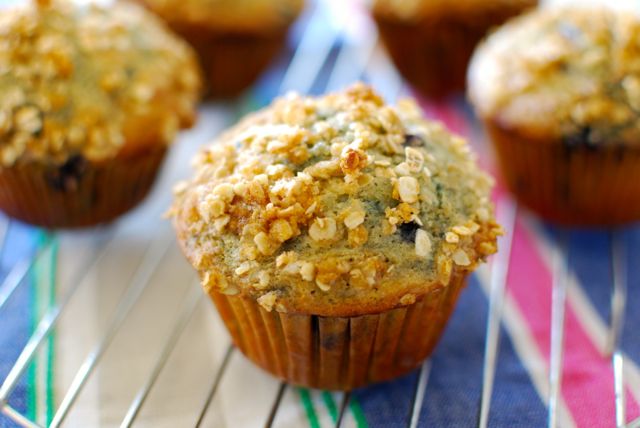 As much as I love fall produce, sometimes I feel nostalgic for the melons & berries of summertime. Which is how these muffins came to be. I made them the other day when I was craving a break from pumpkins, squashes and apples.
These healthy blueberry muffins are a little different from regular recipes because they include kefir, a super-probiotic drink that tastes like yogurt but has the consistency of buttermilk. Kefir works perfectly in baked goods – it keeps them moist and fluffy. And using blueberry kefir here just boosts these muffins' flavor even more.
Blueberry kefir muffins would make a great Christmas morning breakfast!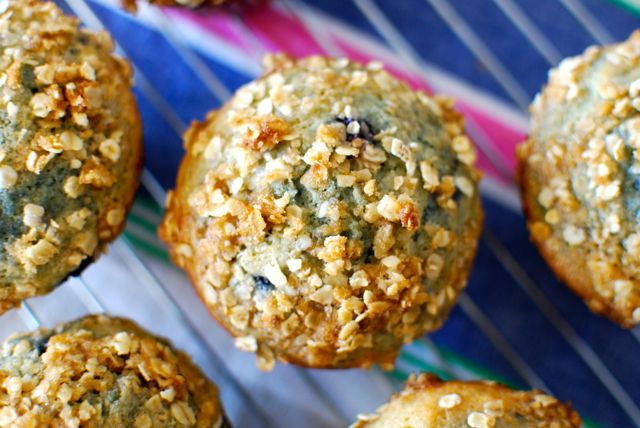 Blueberry Muffins with Kefir
Ingredients
2 cups whole wheat pastry flour
1 tsp baking powder
1 tsp baking soda
1 tsp salt
¼ cup canola or grapeseed oil
2 large eggs
½ sugar
1 tsp vanilla
1 cup blueberry kefir
1¼ cups frozen wild blueberries (the tiny ones)
For the topping:
1 Tbsp butter
2 Tbsp quick oats
2 Tbsp brown sugar
Instructions
Preheat oven to 400. Place paper cups in a muffin tin and spray lightly with cooking spray.
Gently mix flour, baking soda, baking powder and salt in a medium bowl and set aside.
In a mixing bowl, beat together the oil, eggs, sugar and vanilla.
Add the dry ingredients to the wet, alternating with the kefir, until mixture is just incorporated. If mixture seems dry, add a little more kefir (up to ¼ cup)
Toss frozen blueberries with an additional 1 tsp flour then gently fold into the batter.
Scoop batter into muffin cups.
Using a fork or your fingers, mix together the butter, sugar and oats and sprinkle a little of this mixture on top of each muffin.
Bake at 400 for 17-20 minutes, or until a knife/toothpick comes out clean.
Let muffins cool on a wire rack for 10 minutes before digging in.