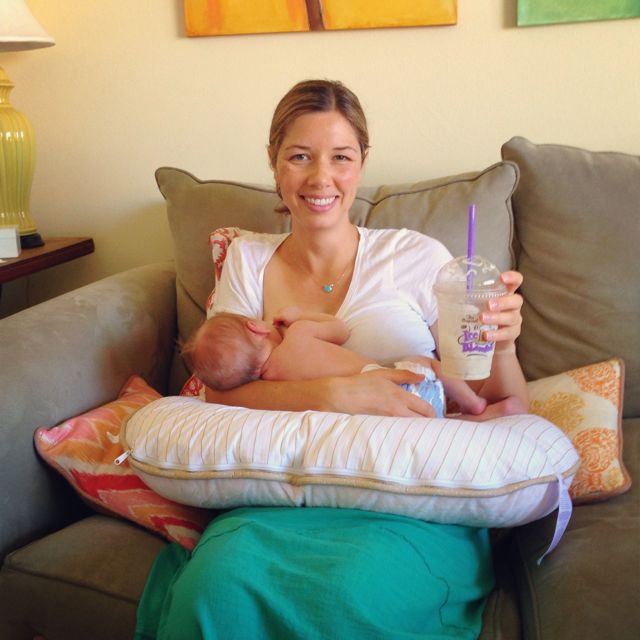 It's World Breastfeeding Week, and while there is a lot of great information about breastfeeding vailable to new moms, most of it is aimed at moms and babies that are past the "newborn" stage (the first 2-3 weeks of life). With this post I'm hoping to provide some tips to moms with babies under three weeks of age.
Many expecting mothers hear that breastfeeding is going to be very challenging and that they might not make enough milk to feed their baby.
While some women do experience these struggles, they aren't the norm.
Breastfeeding a newborn is time-consuming, sometimes exhausting and requires a real commitment.
But with preparation, help and support, you can most likely breastfeed successfully for as long as you want.
Below are some tips to make breastfeeding your newborn an easier, more comfortable experience.
9 Breastfeeding Tips for The First Few Weeks of Your Baby's Life
1. Breastfeed frequently in the first 2 days. Don't follow the clock, just breastfeed as much as possible. Not only does this soothe your newborn, it also triggers your milk production. Not much is coming out at first, but your baby's sucking will soon change that.
2. Avoid swaddling for the first few days. Studies have shown that swaddled babies breastfeed less frequently. You want your baby to wake up often to nurse, since this is what encourages a good milk supply. If you do choose to swaddle for sleep at the hospital or in the few days after, make sure to un-swaddle the baby every two hours for feedings, and that the baby's hands are free – not in mitts – when nursing (his hands also help trigger milk production).
3. Feed your newborn whenever she wakes up. Brand new babies only wake when they're hungry. By the time a baby is "rooting" or sucking on her fist, she's really hungry. If she's reached the stage of crying, she's extremely hungry and now burning precious calories via crying. Feeding your baby the moment she wakes up will help establish your milk supply.
4. Avoid using a pacifier until your baby has surpassed his birth weight. Babies burn calories by sucking, so ideally they should only be sucking while they're eating. Once your baby is steadily gaining weight, you can safely introduce a pacifier or other artificial nipple.
5. Hold your baby on your chest as often as possible, even when you're not breastfeeding. This helps to increase your milk supply over the long term.
6. Pay attention to your pain. You may experience discomfort as your baby begins feeding, but after a minute or two you should only feel a "tugging" sensation that doesn't hurt. Pinching, biting or other really painful sensations are signs that your baby needs some help with her latch. Make sure to ask for a lactation consultant's help within the first few days if you're experiencing a lot of pain. A little pain is normal, as your nipples get used to the sensation, but excessive pain is probably preventable.
7. Remember that newborns feed frequently for short periods of time. For the first week or two, it may feel like your newborn wants to nurse all the time. This can be tiring for the mom, but it's very temporary. Within a few weeks your baby will start to go longer periods without eating (a few hours), which gives you a little more freedom.
8. Keep your baby cool. Babies are comfortable in whatever clothing you are. Dress them in the same amount of layers as you yourself would want based on the weather. Avoid overdressing your baby, since this makes her sleepier and less likely to wake up when she's hungry. Being too hot and sweating also burn unnecessary calories.
9. Ask for help. Breastfeeding isn't always straightforward. Little adjustments can make a big difference in your level of comfort, and this often requires the help of an expert (note: most doctors & nurses are not breastfeeding experts). Before having your baby, research the different avenues of getting help in your area (lactation clinics, lactation consultant at the hospital, etc) and don't hesitate to call right after giving birth. Stanford also offers some great online breastfeeding videos, and La Leche League and KellyMom are good resources.