This Chocolate Coconut Granola is festive, perfect for snacking, yet healthy enough that people will still want to eat it come January. And it's nut-free (though you can use nuts if you'd like), so you won't risk giving an allergen to someone who doesn't eat nuts.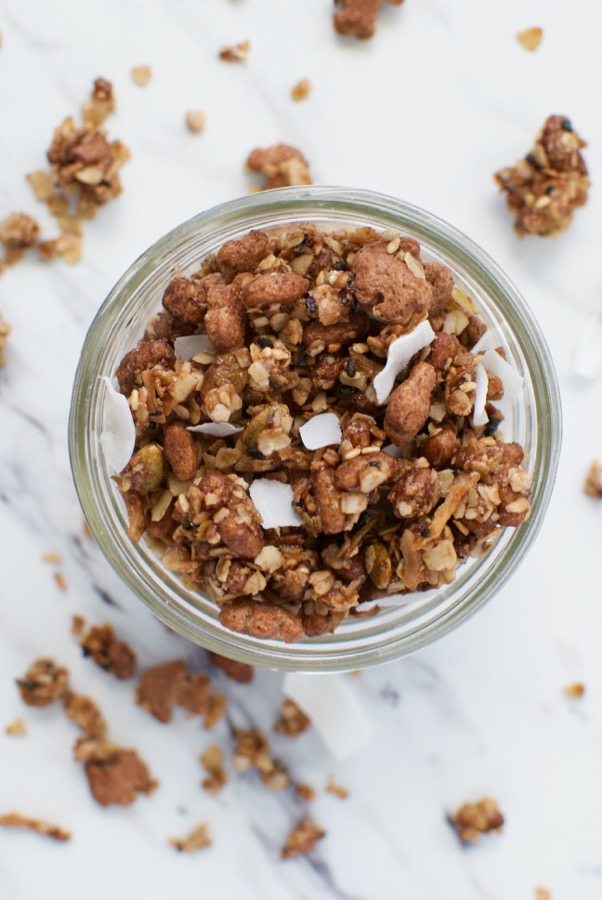 Need a meaningful, delicious homemade gift for your mailman/preschool teacher/client that's easy to make in big batches and that isn't the usual fudge or fruitcake?
Here you go.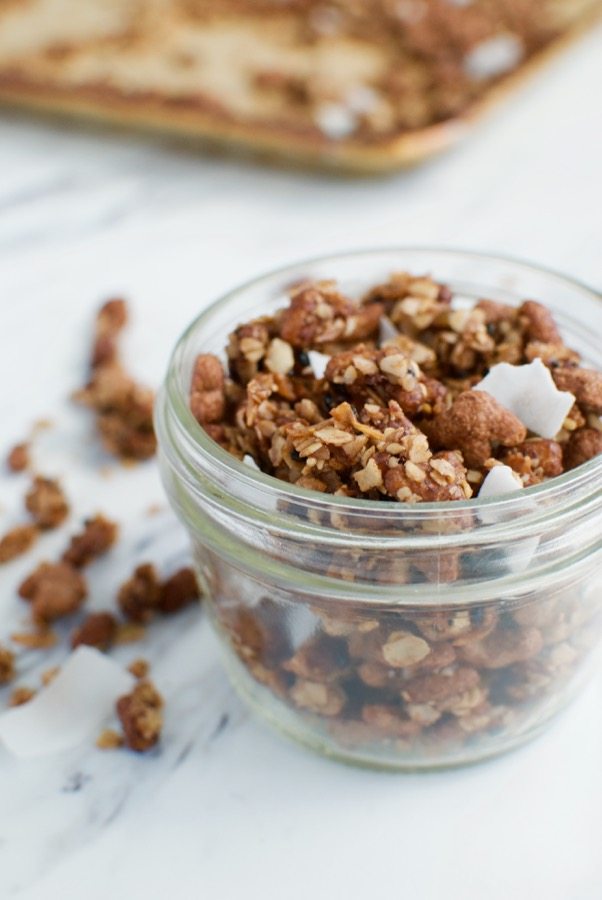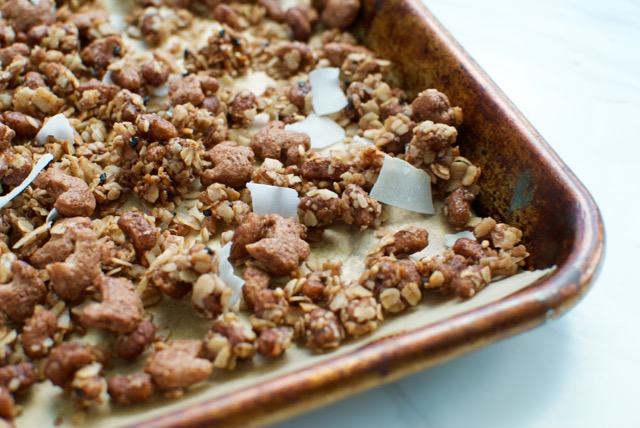 Chocolate Coconut Granola can be sprinkled on yogurt, combined with popcorn for an evening treat, or snacked on straight from the jar.
To gift the granola, simply let it cool then put into a mason jar (you can even remove the label from an empty jelly or marinara sauce jar for a fun up-cycled touch!)  with a ribbon and voila!

Chocolate Coconut Granola
Perfect for snacking or sharing, this granola makes an ideal gift for anyone who could use a healthy treat!
Ingredients
¼ cup coconut oil, melted
¼ cup brown rice syrup (or corn syrup, or more honey)
¼ cup honey
2 Tbsp cocoa powder (use 1 Tbsp more + 1 extra Tbsp oil for more chocolate taste)
1 tsp vanilla extract
1 cup unsweetened coconut flakes (I like the big flakes)
1.5 cups oats
3 cups natural chocolatey cereal (I used 2 cups One Degree Organic Brown Rice Cacao Crisps + 1 cup Annie's Cocoa Bunnies)
½ cup seeds like sunflower seeds, sesame seeds, pumpkin seeds (or chopped nuts)
Instructions
Combine oil, sweeteners, cocoa powder and vanilla in a mixing bowl.
Once smooth, add in the dry ingredients and toss to coat.
Line a baking sheet with parchment paper and lay granola out in a single layer on the baking sheet. Bake at 325 for 15 minutes then remove and stir. Reduce heat to 300 and put back in oven for an additional 10-15 minutes or until oats seem cooked and are beginning to brown.
Let cool then crumble into smaller chunks or pieces.
Store in a sealed jar for up to a month.