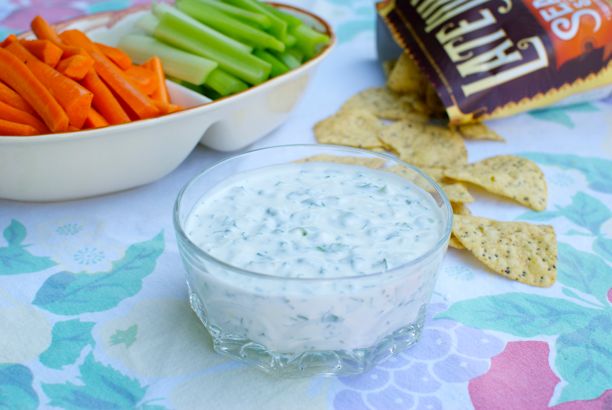 A few years ago my friend Christa introduced me to the Cilantro Chive Yogurt Dip at Trader Joe's. I was instantly obsessed.
This creamy dip was perfect with crunchy raw veggies, crackers, pita and even spread on wraps and sandwiches. It's kind of like a grown up version of ranch, but with more flavor and tanginess.
But since the Trader Joe's dip is not organic, I knew I eventually wanted to create my own organic version at home. (Since for me, buying organic dairy is a must).
So recently, when I spotted fresh cilantro and chives in my mom's garden, I came up with the recipe below. Our whole family quickly gobbled up this dip with Late July chips (in the sweet potato and sea salt flavors) and fresh veggies. It was fabulous and easy enough to make a batch every week.
If you're a Trader Joe's Cilantro Chive Yogurt Dip fan – try this at home and you may never miss the store-bought stuff!
Cilantro Chive Yogurt Dip
Like the Trader Joe's Cilantro Chive Yogurt Dip only tastier, and organic.
Ingredients
1 cup Stonyfield organic plain Greek yogurt
3 Tbsp mayonnaise
¼ cup chopped fresh cilantro
¼ cup finely chopped fresh chives
1 clove garlic, minced using a garlic press
Zest from ½ a lemon
Salt & pepper to taste
Late July chips and fresh veggies for dipping
Instructions
Combine all ingredients in a medium bowl.
Refrigerate for at least 30 minutes before serving, for maximum flavor.
Store any leftover in an airtight container in the fridge for up to 3 days.
This recipe was created as part of my ongoing partnership with Stonyfield. All thoughts and opinions are my own. Thank you for reading and supporting my blog!