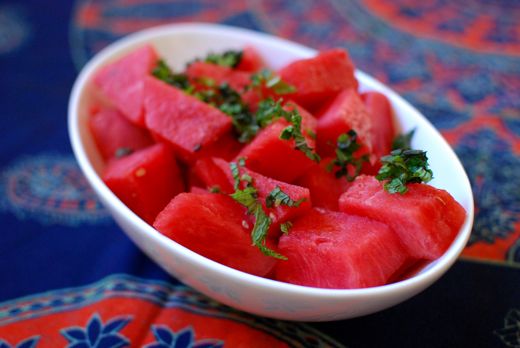 Entertaining can be stressful and time-consuming, but it doesn't have to be, especially during summer when you can let vibrant produce do most of the work.
My friend Eva recently hosted our girls supper club, and she really impressed me with her simple yet beautiful appetizers.  In addition to cubed watermelon with chopped fresh mint (pictured above), she set out a plate of fresh peaches:
Roasted asparagus (which you could easily swap for snap peas or green beans–now in season):
and prosciutto-wrapped dates (heated in the toaster oven!) which you could stuff with cheese/nuts if you so desired.
We nibbled on these delicious apps with glasses of wine and in good company.
The best part was, Eva was able to enjoy herself too because she wasn't trapped in the kitchen slaving away over complicated food.
Next time I entertain, I'll be following in her lead!