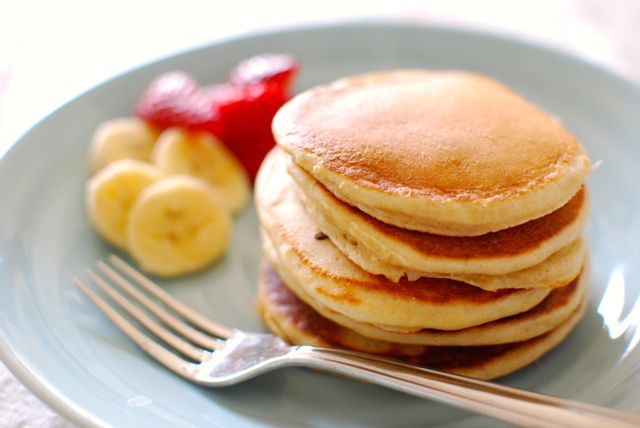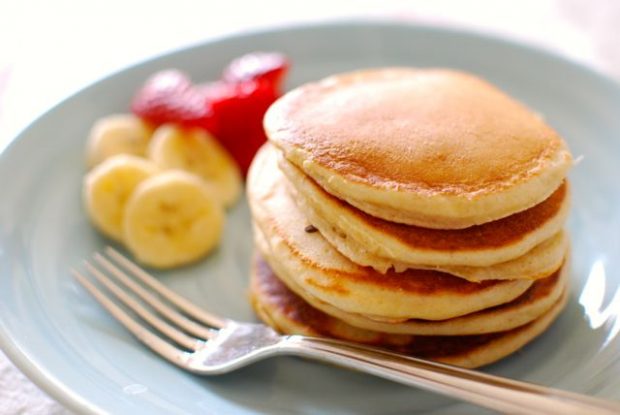 I love all kinds of pancakes. Blueberry. Banana. Chocolate chip. Lemon Ricotta. Corn. Multi-grain. And the list goes on.
But sometimes, I just want plain, fluffy pancakes. The kind you'd order at a diner (only a little healthier).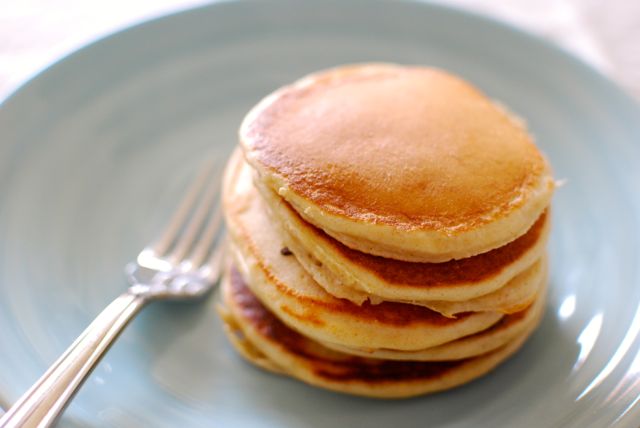 Last weekend both Lucy and I were craving something special for breakfast, so I whipped up this batch of Greek Yogurt Pancakes. They were as fluffy and old-fashioned as we'd both hoped, and I'd be embarrassed to admit how many we ate between the two of us 😉
The key to these is the Greek yogurt, which provides the perfect amount of moisture and the "tang" you'd expect from traditional buttermilk pancakes.
Can't wait to make them again next weekend!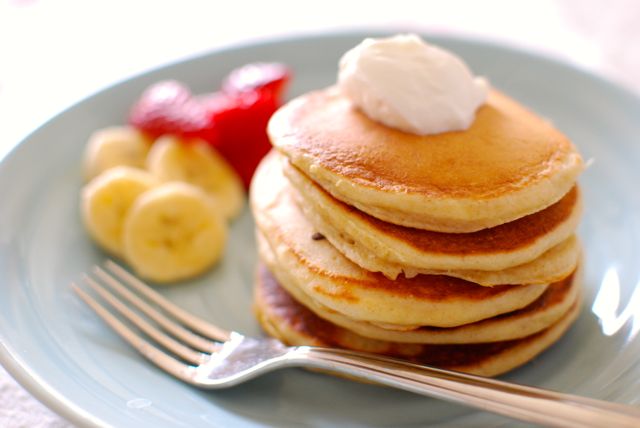 Fluffy Greek Yogurt Pancakes
For those who love traditional pancakes but want something a little bit healthier!
Serves:
About 12 pancakes
Ingredients
1.5 cups white whole wheat flour (or whole wheat pastry flour)
2 tsp baking powder
2 Tbsp sugar
⅛ tsp salt
2 Tbsp melted butter (or oil)
2 large eggs
1 tsp vanilla extract
¾ cup plain Greek yogurt
¾ cup organic milk, kefir or buttermilk
Organic butter for the griddle & for serving
Instructions
Whisk dry ingredients together in a small bowl. Set aside.
In a mixing bowl, gently whisk together the oil, eggs, vanilla, yogurt and milk.
At this point, begin to heat a griddle or cast-iron pan over medium-low heat.
Add the dry ingredients to the wet, ½ cup at a time, stirring gently with a spatula until just combined. (it might be a little lumpy, which is OK). Let batter sit 5 minutes.
Rub your griddle with butter, then use a ladle or small measuring cup to pour out the pancakes.
Cook cakes for 2-3 minutes or until tiny bubbles begin to form, then flip and cook another 1-2 minutes.
Serve immediately, or keep pancakes in a baking dish in a low oven (200 degrees).
Best served with butter, syrup, jam, fresh fruit, a dollop of Greek yogurt and/or whipped cream.
Notes
You can use regular white flour for these. I just like whole wheat pastry flour or white whole wheat flour because they offer more fiber & nutrients but still have the fluffy texture of refined flour.