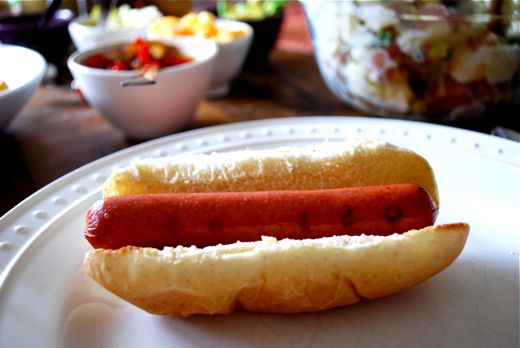 Though he probably doesn't know it, I learned a great deal about nutrition from my dad.  He subtly taught me a few key healthy eating principles that have over the years helped me build and maintain healthy habits and a healthy relationship with food.
But my dad also taught me to love hot dogs.  These are almost for sure his favorite food, so our Father's Day celebration includes them nearly every year.  Thank goodness for Applegate's organic grass-fed beef hot dogs, which allow us to indulge without having to sacrifice our family food values.  This year, I'm going to switch things up a bit by making Banh Mi-style hot dogs, served alongside some of these lightened BBQ classics.  I think it will make these two dads very, very happy.
Happy Fathers Day to my dad, my husband, and all the other loving fathers I am lucky to know!