A perfect paring for one of summer's tastiest fruits!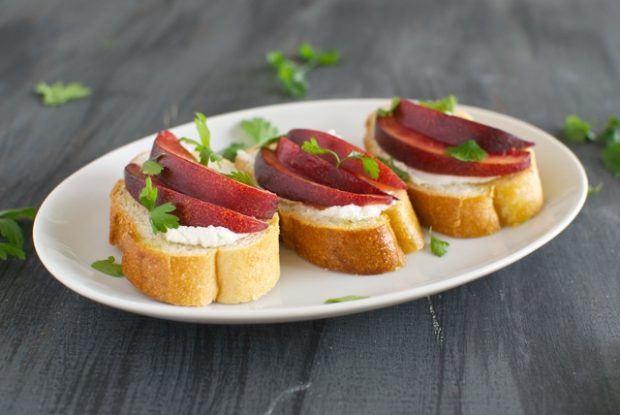 It's hot out, which means I'm not cooking much these days. But that doesn't mean we aren't eating well.
With nearly every kind of summer produce in full swing, our very simple meals have been bursting with color, flavor and nutritional value. It's the best!
Lucy's favorite dinner right now is a big platter of fruits, veggies, cheese, nuts, olives, salami, and bread or crackers. She's named it "Combos" because as we sit around nibbling, we all come up with different combinations of ingredients and share them with each other.
This Nectarine and Goat Cheese Crostini was one of Lucy's combo successes. With her little spreading knife, she slathered a baguette slice with goat cheese, added slices of nectarine, then sprinkled it with a few leaves of fresh parsley (which I think she picked off before eating 😉 ).
Both Tyler and I loved this combo so much that I made it again when we had friends over for dinner, and thought I'd share it with you too. It would make a great appetizer for any summer BBQ or potluck, or next time you serve "Combos" for dinner.
Credit for this idea goes to Lucy!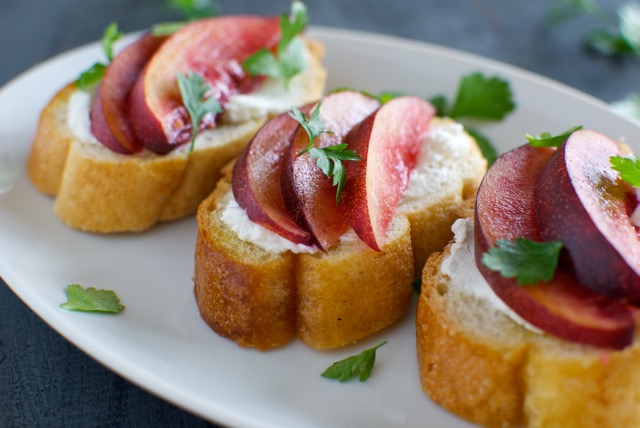 Nectarine and Goat Cheese Crostini with Fresh Parsley
A perfect paring for one of summer's tastiest fruits!
Serves:
4 appetizer servings
Ingredients
12-15 baguette slices, toasted
3 oz soft goat cheese (remove from fridge about 30 minutes before spreading)
2 large yellow or white nectarines, cut into thin slices
Small handful of fresh Italian parsley leaves, torn or rough chopped
Salt and pepper to taste
Instructions
Spread a thin layer of goat cheese on each piece of baguette, then top with several nectarine slices.
Place crostini on a platter, then sprinkle the parsley around the platter.
Serve at room temperature.