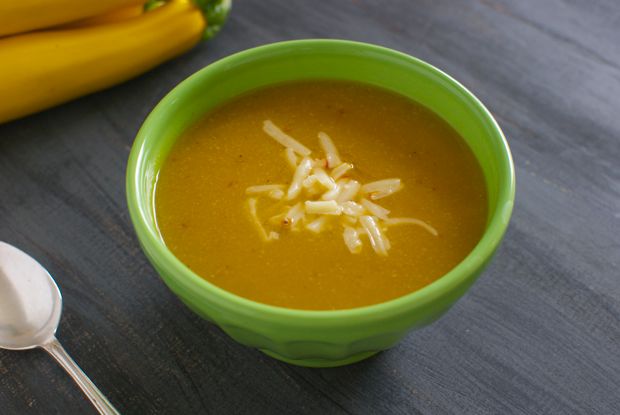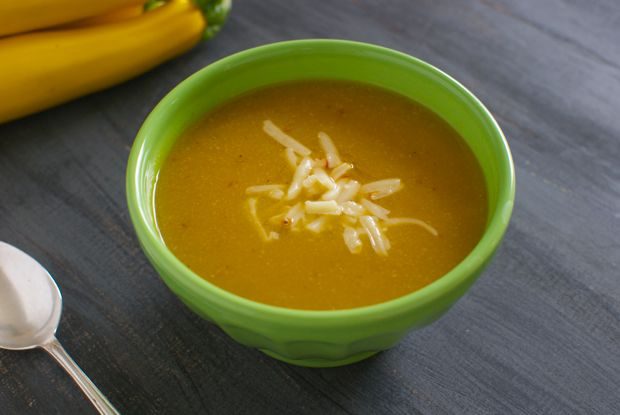 We spent the whole month of July in Seattle, visiting family and enjoying everything a Pacific Northwest summer has to offer: super late sunsets, frequent swims in the lake, blackberry picking, and more.
But perhaps my favorite part of the trip? Constantly having to invent new ways to use all the zucchini that seemed to grow overnight in my mom's garden. The (huge) food nerd in me loved this challenge, and after eating zucchini & summer squash for nearly every meal, I think we all realized how versatile these summer veggies can be.
One dinner we kept coming back to was this Yellow Squash Soup with Chipotle and Cheddar. Even on the warmest nights, this spicy soup still appealed to us – especially when we were arriving home at dinnertime with no plans for a meal!
Ready in 30 minutes, this recipe is basically a cheesy, slightly spicy version of my Creamy Zucchini Soup. Some of the time I used Organic Valley Pepper Jack Cheese (the best Pepper Jack if you ask me) and other times sharp cheddar. Either way, the soup is delicious.
If you have extra zucchini or summer squash in your garden, make and freeze this soup to enjoy for dark long winter days when you're longing for your abundant summer garden. You'll be so glad you did!
Summer Squash Soup with Chipotle and Cheddar
A delightful way to use all that tender summer squash - and ready in under 30 minutes!
Ingredients
1 small onion, cut into quarters
3 cloves garlic
1-2 chipotle peppers (1 for medium spice, 2 for lots of spice!)
6 medium yellow squash, cut into chunks
6 cups vegetable broth
½ cup organic whole or 2% milk
1 cup grated organic sharp cheddar or pepper jack cheese
Instructions
Place onion, garlic, squash, chipotle pepper and broth in a large pot over medium heat. Bring this mixture to a boil then educe heat to low and let simmer, partially covered, for about 20 minutes or until vegetables are very tender.
Remove pot from heat and carefully blend with an immersion blender until soup is smooth and creamy. Stir in the milk and shredded cheese.
Serve as is, or with a dollop of yogurt or more shredded cheese on top.