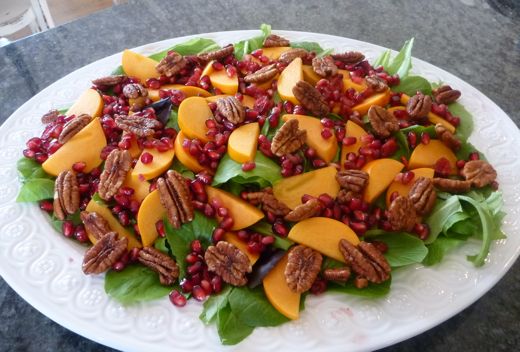 Persimmons are my favorite fall fruit.  They're only available for a month or two, depending on where you live, so when you see them on the shelves, snap them up!
There are two kinds of persimmons sold in the U.S. — Fuyu and Haciya.  Fuyus are what I buy, because you can eat them raw when they're still crunchy like an apple, or wait until they're deep orange and soft to the touch like a tomato.  These are Fuyus: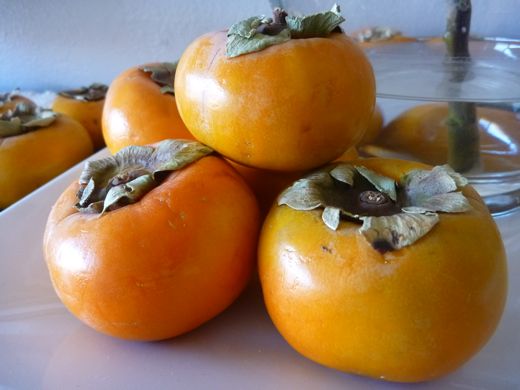 They make a perfect snack, or ingredient in a fall salad (see recipe below).  Hacicya Persimmons are more cone-shaped, and extremely astringent if you eat them before they're fully ripe.  They're best when cooked, because otherwise they may make your mouth tickle and pucker.  If you're new to persimmons, stick to the Fuyus.
Persimmon and Pomegranate Salad
Ingredients
1 bag baby greens of any kind
2 ripe Fuyu persimmons (deep orange in color, but still pretty firm)
Seeds from half a pomegranate
Candied pecans or walnuts
2 oz soft goat cheese
Balsamic Vinaigrette
Instructions
Arrange greens on a large platter. Remove stem and slice persimmons into thin wedges. Arrange persimmon slices and nuts over the greens, then crumble the goat cheese and sprinkle on the pomegranate seeds. Drizzle whole salad with vinaigrette and serve.