Sesame ginger avocado dip – a refreshing departure from guacamole, this dip will delight the senses and please the palate!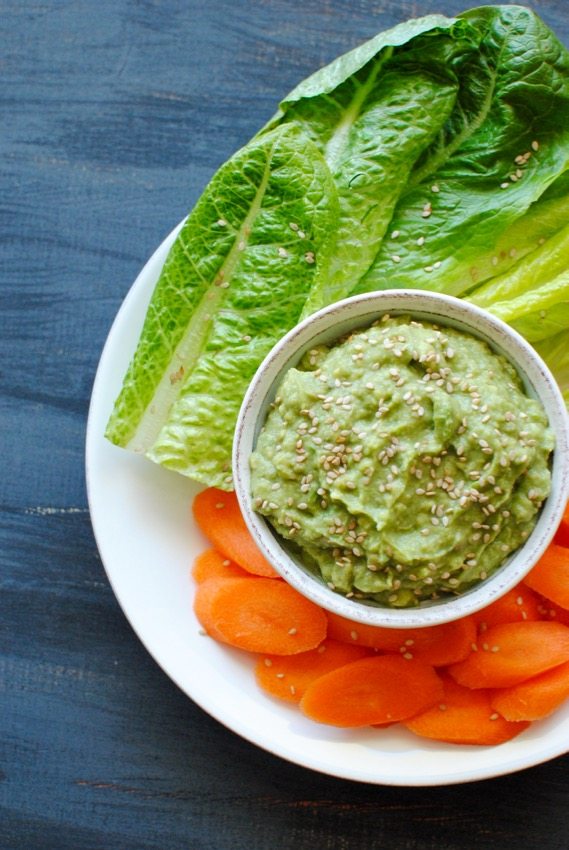 I love a good Chip Buffet on Superbowl Sunday. But I also like to balance all that delicious salt and grease with some light, crunchy veggies. Just to feel even, you know?
Of course, those store-bought vegetable platters are never very appealing. At best they include refrigerated tomatoes (the worst!), dried out baby carrots, and mediocre ranch dressing. Not exactly stiff competition when accompanied by nachos and wings!
So this year, I've spruced up the veggie offering with a simple yet unique Sesame Ginger Avocado Dip.
Though this appetizer may look a lot like guacamole, its flavors are quite different. Sesame, soy and ginger and rice vinegar give the dip an exotic flavor in a crowd-pleasing format. Think of it as Guacamole's cousin 😉
My favorite way to eat this is with carrot "coins" and small Romaine lettuce leaves (admittedly, I buy the Easy Leaves from Earthbound Farm which are organic, washed & ready). Radishes and cucumbers would be excellent too. Its also great with a handful of edamame stirred in.
Whichever way you decide to serve this appetizer, I can almost guarantee your Superbowl crowd will be happy!
Sesame Ginger Avocado Dip
A refreshing departure from guacamole, this dip will delight the senses and please the palate!
Ingredients
3 ripe avocados (they should be easy to scoop out of the peel with a spoon)
1 Tbsp rice vinegar
1 Tbsp fresh lime juice
1 Tbsp soy sauce
1 Tbsp sesame oil
2 tsp fresh grated ginger (or jarred minced ginger)
Salt to taste
1 Tbsp sesame seeds (optional)
Romaine lettuce leaves, carrots, radishes, cucumbers and/or chips for dipping
Instructions
Scoop the avocado into a mixing bowl and mash with a fork.
Stir in the remaining ingredients and taste for seasoning. Add a pinch of salt if desired.
Serve at room temperature or chilled alongside fresh, colorful veggies.
Notes
This dip is also delicious when you add ½ cup mashed peas or ½ cup shelled edamame. Simply stir these ingredients in when making the dip, and add a little bit more lime juice.