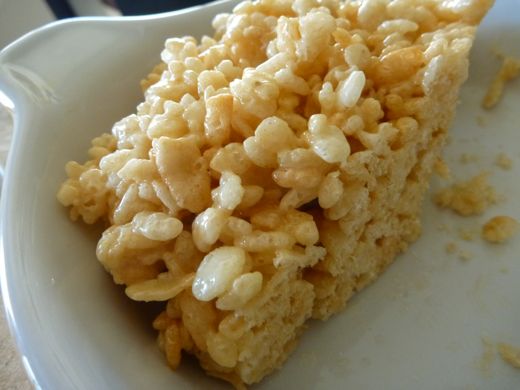 When it comes to desserts, Rice Krispie treats are one of the best choices if you're watching your weight.  Compared to cookies, brownies, cakes, pastries etc, they're relatively low in calories and fat.  So next time you're craving something sweet, whip up a batch of these light & airy treats. Want to jazz them up a little?  Here are some ideas:
Use peanut butter instead of butter
Add 1 cup raisins or dried cranberries
Add 1/2 cup mini chocolate chips to the top of the treats
Use puffed millet or puffed rice instead of Rice Krispies for a more natural treat
Replace the Rice Krispies with unbuttered, unsalted popcorn, to make popcorn balls (be careful not to get any hard kernels in the mix so you save your teeth!)
Replace 1 cup of the Rice Krispies with 1 cup bran flakes to boost fiber & crunch
No matter what variety you choose to make, watch your portion size, as they're easy to eat a lot of!