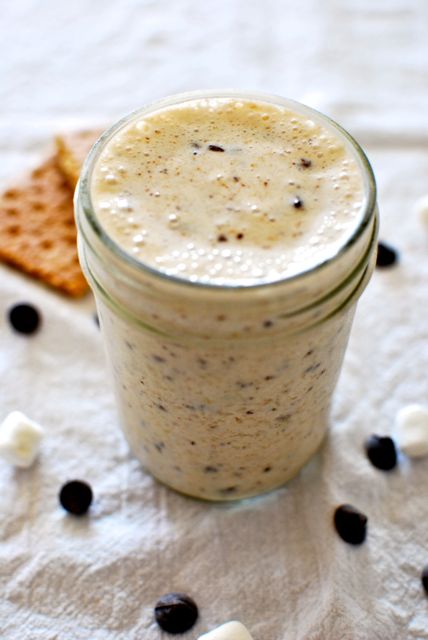 S'mores are the best.
Really, does anyone not like that melty, chocolatey, toasty taste? I think it is one of life's most perfect combinations.
A few weeks ago I was craving s'mores in the middle of the day (thank you, pregnancy) but thought I should eat something a little more nutritious than candy on graham crackers.
Enter the S'mores Smoothie.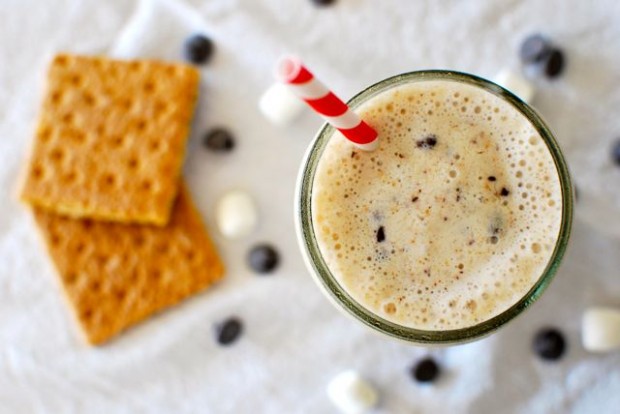 Healthy enough to call a smoothie. Tasty enough to fulfill a s'mores craving.
This is definitely a new favorite. Hope you enjoy!
S'mores Smoothie
The coolest version of s'mores you'll ever eat!
Serves:
1 large or 2 small smoothies
Ingredients
1 cup organic vanilla Greek yogurt
½ cup organic milk
1 tsp cocoa powder
4 large marshmallows (or 20 mini marshmallows)
3 graham cracker squares
1 Tbsp brown sugar
1 Tbsp chocolate chips
Ice cubes to taste
Instructions
Blend everything but the ice cubes and chocolate chips in a blender until smooth.
Add a couple handfuls of ice cubes and the chocolate chips. Blend until desired consistency is reached (add more ice if necessary).