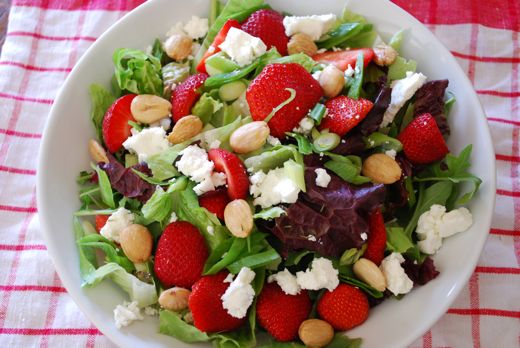 Looking for a healthy side dish to complement your Memorial Day BBQ menu?  Try this salad.  It's colorful and flavorful punch make it just about perfect.  Your guests won't be eating this because it's healthy, but because it's good!
Strawberry & Goat Cheese Salad with Marcona Almonds
Ingredients
8 cups greens
2 cups sliced strawberries
2 green onions, sliced
2 oz goat cheese
¼ cup salted Marcona almonds (Spanish, unpeeled almonds)
Juice of 1 lemon
3 Tbsp olive oil
1 tsp Dijon mustard
2 Tbsp honey
Instructions
Spread lettuce over a large platter. Top with strawberries, green onions, and almonds, then crumble the goat cheese over the salad.
In a small bowl, whisk together the lemon juice, mustard, honey, and olive oil. Sprinkle salad with a pinch of salt & pepper then drizzle on the dressing and toss. Serve immediately.