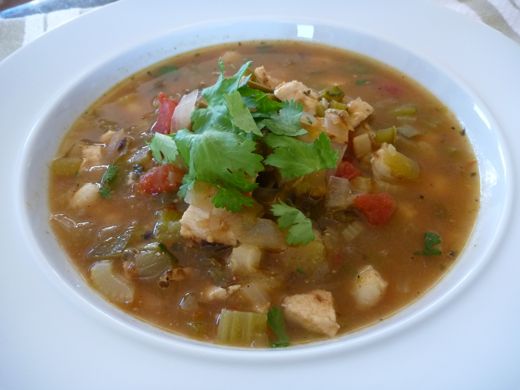 Still have some lingering leftover turkey?  Use it up today with this easy soup recipe.  It tastes nothing like Thanksgiving, so you're taste buds won't be bored, and it's delicious served with a mini quesadilla or a few corn tortilla chips.  If you're out of turkey by now, brown up some ground turkey or lean ground pork and use that instead, or substitute diced chicken breast.  This can also be made vegetarian by using white beans in place of meat.
Not sure what hominy is?  They're dried maize (corn) kernels that are then soaked and canned.  This is what you're looking for, and if you can't find it in your regular grocery (most will have it), check a local Mexican market: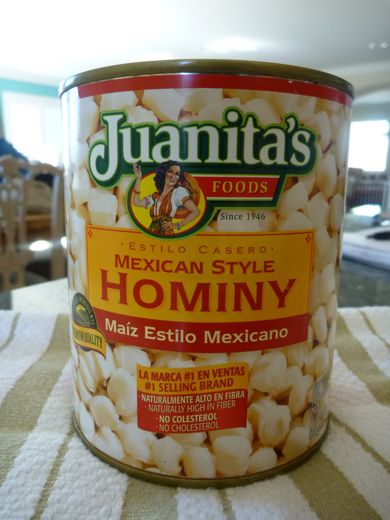 Fun Facts: If you grind up dried hominy, you get grits.  If you fry the kernels, you get corn nuts.
Turkey Posole Soup
Ingredients
1 tablespoon Canola Oil
1 whole Yellow or Brown Onion, diced
4 stalks Celery, diced
1 Poblano Peppers, diced
2 teaspoons Ground Cumin
1 teaspoon Dried Oregano
1 quart Chicken Broth, Low sodium
15 ounces Fire Roasted Diced Canned Tomatoes, (1 can)
4 ounces Diced green chiles, (1 can)
1 teaspoon Ground Coriander
1 cup Fresh Cilantro, rough chopped
2 cups Canned Hominy, (1 can)
2 cups Cooked turkey breast, diced (can also use dark meat)
Instructions
Heat a large heavy-bottomed pot (like a Dutch oven) over medium heat. Add canola oil, then chopped onion, celery, poblano pepper, and a pinch of salt & pepper. Saute veggies until soft, about 10 minutes.
Stir spices into veggies and let cook 1 min, then add the cans of green chiles and tomatoes, salsa, and broth. Let mixture come to a simmer then cover and cook over low heat for about 20 minutes.
Drain the hominy in a strainer, then add it to the pot along with the turkey meat. Cook for 2-3 minutes then stir in the cilantro and serve with a wedge of lime (optional).