The zucchini, yellow crookneck, and Mexican squash are SO good right now (at least where I live, sorry if you're still stuck in winter weather)…and fresh corn is getting better every week.  These enchiladas are a fresh & easy way to liven up early summer produce.
Zucchini & Fresh Corn Enchiladas
1-2 tbsp olive oil
3 sweet corn on the cob
1 medium onion, thinly sliced
2 cloves fresh garlic, minced
1.5 lbs fresh zucchini, thinly sliced in half length and width-wise, so the slices are half moon shaped (choose small-medium zucchini for flavor and tenderness, may use yellow crookneck squash too)
1 cup fresh cilantro leaves, rough chopped
2 tsp ground cumin
1 tsp chili powder
1/2 tsp salt
1 large jar salsa verde (tomatillo salsa)
8 corn tortillas
2 cups shredded sharp white cheddar cheese
1. Heat a large skillet over medium-high heat, then add 1 Tbsp olive oil and the sliced onion. Saute for 3-4 min or until onion begins to brown a little and soften, then add the salt, garlic and zucchini slices.  Saute for about 5 min or until crisp-tender.  Should look something like this:

2. Meanwhile, microwave the cobs of corn for about 3 minutes, then cut the kernels off the cob (or alternatively, roast them at 400 for 15 minutes, as seen below).  Add corn kernels, cumin, and chili powder to the pan and stir to combine everything.  Remove from heat and stir in chopped cilantro.
3. Preheat oven to 350.
4. Wrap corn tortillas in a damp paper towel and microwave for 1 min so they're easy to work with.  These are my favorite corn tortillas:

5. In a medium-large baking dish, pour enough salsa to barely cover bottom of dish.
6. Sprinkle some shredded cheese and a place scoop of the zucchini-corn mixture (and some more cilantro leaves if you want) on a tortilla, then roll and place seam-side down in the baking dish.  Repeat with remaining tortillas.
7. Pour remaining salsa over the filled tortillas, then sprinkle remaining shredded cheese over the top.

8. Bake uncovered until sauce is bubbling and cheese on top is melted and browned, about 20-25 minutes.  Let sit 5 min, then serve alongside baby greens tossed with lime juice & olive oil.
Note: Feel free to roast the corn on the cob instead of microwaving: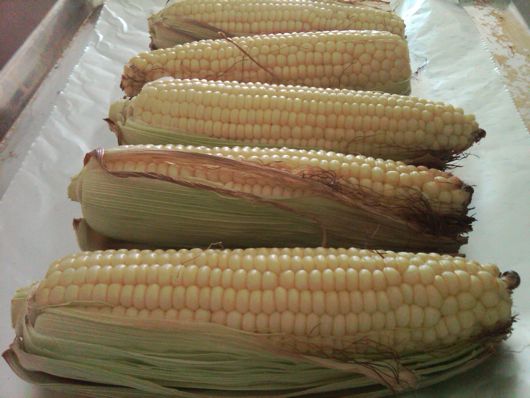 Want to see more Recipes?