These Apricot Flaxseed Muffins are nutty, nutritious, and not overly sweet. Sub your favorite stone fruit to fit the season or what you happen to have on hand.
Apricots are one of my family's favorite fruits, not only because of their taste but because they're a sign that summer is just around the corner.
When these sweet little gems show up at our markets in mid-May, we start buying them by the crate. Most get eaten as-is, but I also try to stash a few for crisps, baked oatmeal and of course, muffins.
I've made all sorts of stone fruit muffins over the years, from bran to cornmeal to streusel. But these Apricot Flaxseed Muffins are my current favorite.
Unlike cake-style muffins, these are nutty, nutritious, and not overly sweet. Sure you can top a warm one with vanilla bean ice cream (not that I've done that!) – but they also make the perfect portable breakfast or snack. They're packed with nutritious flaxseed meal, which gives them their nutty flavor as well as a hearty dose of fiber and omega-3 fatty acids.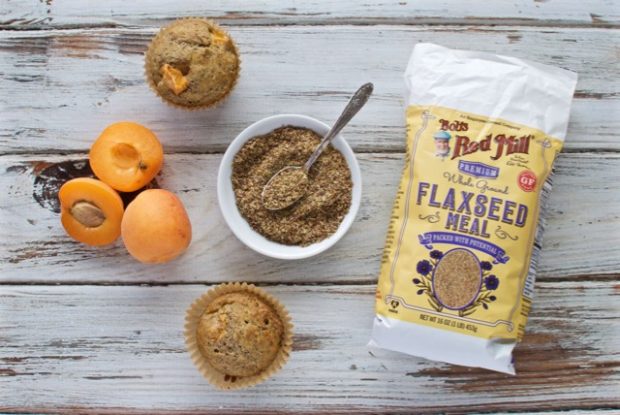 You could definitely make these muffins with nectarines, peaches, or plums. But this time of year, I'm partial to apricots since their season is so short and something I can't help but savor.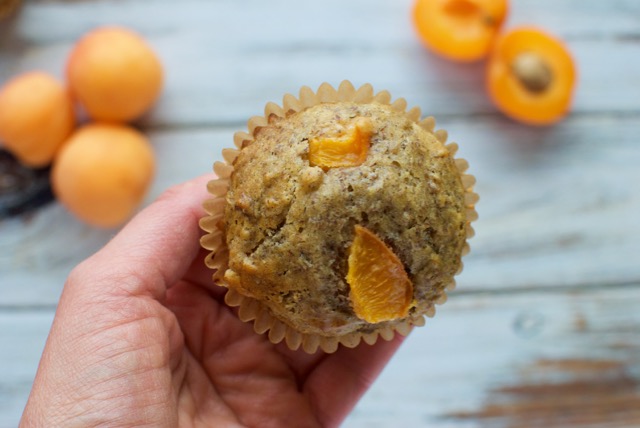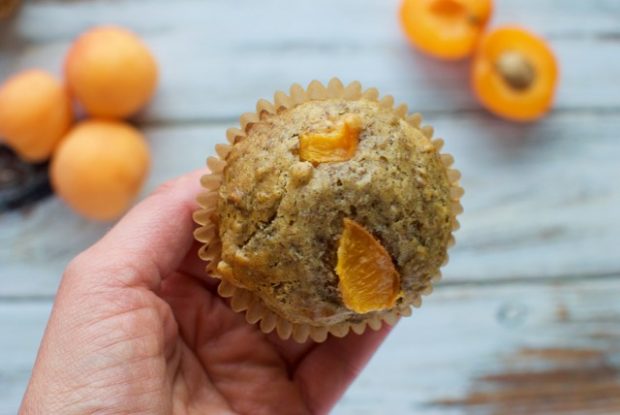 Hope you enjoy these as much as we do!

Apricot Flaxseed Muffins
Packed with nutrition and flavor, these muffins are an ideal way to savor those early summer apricots. With juicy pieces of fruit in each bite, you'll have a hard time stopping at just one muffin!
Ingredients
¼ cup canola or other flavorless oil
½ cup brown sugar
2 eggs
1 tsp vanilla
½ cup milk or milk alternative
¾ cup flaxseed meal
1½ cups all-purpose flour (or whole wheat pastry flour)
1 tsp baking soda
1 tsp baking powder
½ tsp cinnamon
½ tsp salt
1 cup chopped apricots
Instructions
Preheat oven to 400.
Line a muffin tin with paper liners and spray liners with a natural cooking spray
In a large mixing bowl, whisk together oil, sugar, vanilla, and milk.
In a separate bowl, gently combine flaxseed meal, flour, baking soda, baking powder and salt.
Add dry ingredients to the wet, half at a time, and gently stir until just combined.
Gently fold in apricot chunks, then scoop batter into muffin papers, filling about ¾ the way up.
Bake at 400 for about 18 minutes or until a toothpick comes out clean.
Let cool in the tin for 10 minutes, then remove to a cooling rack and cool completely before enjoying.
Drizzle with honey or butter before serving.
This post is sponsored by Bob's Red Mill. As always, all thoughts and opinions are 100% my own. I only work with brands whose products I really love and believe in, and I thank you for supporting these brands and my blog!