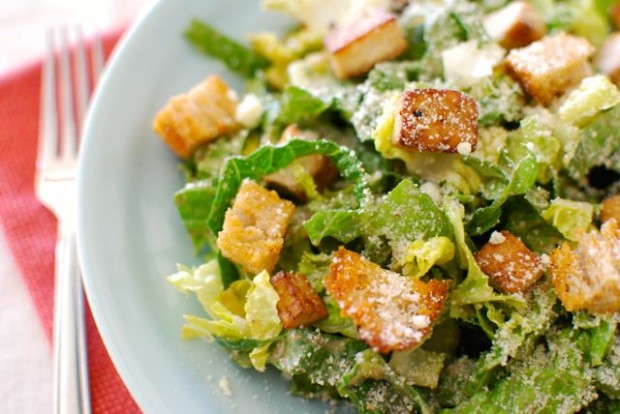 Caesar salad can be heavy and boring, or it can be just about the best-tasting salad on earth.
I'm always hesitant to order a Caesar when eating out, so I've taken to making it at home a lot. And I think I've finally come up with the perfect recipe!
I always start with Earthbound Farm Romaine hearts, since they are organic and so reliably sweet. (Seriously, right from the field they were so sweet they almost tasted like fruit!)
Beyond good quality lettuce, it's mostly about the dressing and croutons, both of which are totally worth making homemade.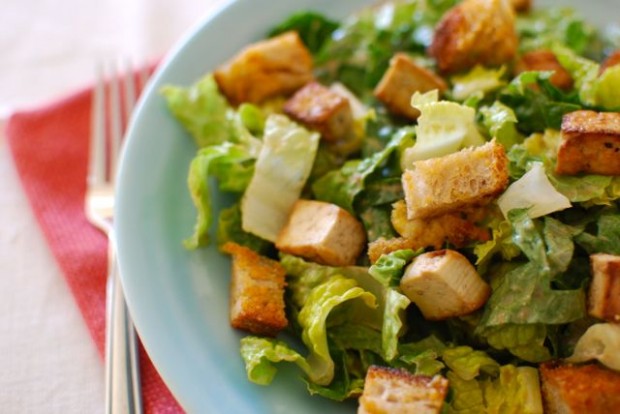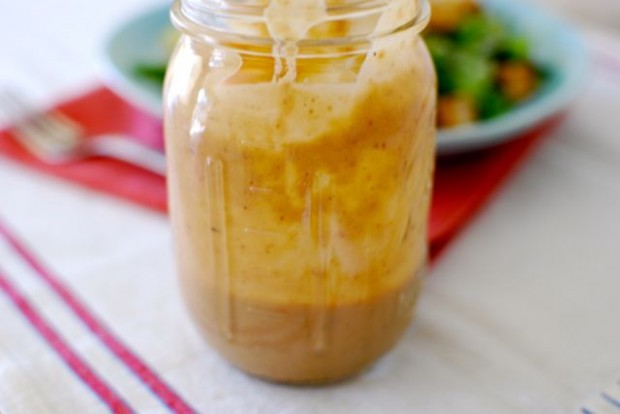 Below is a classic Caesar recipe with my latest favorite (vegan!) dressing. Feel free to add cherry tomatoes or roasted veggies for a pop of color and extra flavor.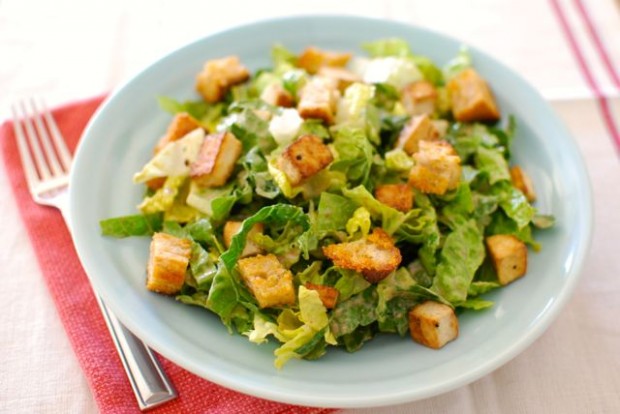 Caesar Salad with Crispy Tofu and Homemade Croutons
Serves:
3-4 main dish servings
Ingredients
3 Hearts of Romaine, washed, dried & chopped
½ cup shaved or grated Parmesan cheese
1 cup homemade croutons
2 Tbsp olive or canola oil
1 10-oz package extra firm tofu, rinsed, drained and patted dry with paper towels
2 Tbsp soy sauce
Salt & pepper
Dressing to taste (recipe below)
Instructions
Cut tofu into ½ inch cubes and place in a medium bowl. Sprinkle tofu with salt & pepper and toss with the soy sauce.
Heat a skillet over medium heat. After 1-2 minutes, add oil and tofu cubes (without residual soy sauce) to the pan.
Let tofu brown for 3-4 minutes, then toss a few times until it browns on all sides, about 10 minutes total. Remove from heat.
Place lettuce, cheese and croutons in a large salad bowl. Drizzle with a little dressing and toss to combine.
Top salad with the tofu cubes and drizzle with more dressing to taste.
Vegan Caesar Dressing
This recipe makes more than you'll need for one salad, but you'll love having leftover!
Ingredients
4-oz chunk Silken tofu
2 small cloves garlic
¼ cup balsamic vinegar
¼ apple cider or white wine vinegar
Juice of ½ a lemon
1 Tbsp soy sauce
1 Tbsp honey
1 Tbsp Dijon mustard
¼ cup extra virgin olive oil
Salt & pepper to taste
Instructions
Place garlic and tofu in a food processor or high powered blender and pulse until chopped.
Add remaining ingredients and blend until smooth and creamy.
Taste, and add desired amount of salt & pepper.
Notes
This is a very flexible recipe, so add more mustard, honey or garlic to taste! Store any leftover dressing in the fridge for up to a week.