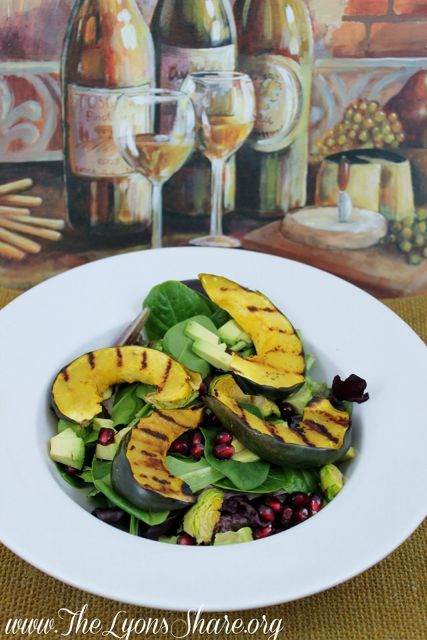 Today's salad & post comes from an Eating Made Easy reader & fellow healthy living blogger, Megan. 
Hi!  I'm Megan, and I blog at The Lyons' Share Wellness.  I live in Dallas, TX, and I recently quit my management consulting job to focus more on helping others become happier and healthier … I'm excited to see where that journey takes me!
When Amelia asked me to contribute a recipe to Salad Month, I was so honored!  First, I'm a huge fan of salads – I have one almost every single day as a way to get some extra vegetables and keep me satisfied throughout the afternoon.  And second, I love Eating Made Easy!  Amelia's belief in balanced nutrition and love of simple, healthy – and delicious – meals are closely aligned with my food style.  And though I don't have any children myself, I love seeing pictures of Lucy's big smile 🙂
When I think of my favorite salads, they always include a pop of fruit, a bit of healthy fat to keep me full, and a flavorful (but not too heavy) dressing.  I think that's why this recent recipe of Amelia's is near the top of my to-make list!  For my own salad recipe, I wanted to fulfill those requirements, while also staying simple and using seasonal ingredients (this was one of my favorite Eating Made Easy posts, which mentions the benefit of seasonal produce).  To get inspiration, I checked out this fun list of seasonal produce , and after some shopping, I wound up with Brussels sprouts, acorn squash, and pomegranate – three of my very favorites!
Although this recipe isn't too fancy, you'll be amazed at how well the flavors come together.  The salad is the perfect mix of tang (pomegranate), freshness (veggies), and creaminess (avocado and acorn squash).  The honey-balsamic dressing ties all of the flavors together into a perfectly simple, seasonal meal.
I hope you enjoy the salad!
Winter Bliss Salad with Honey Balsamic Vinaigrette
The perfect way to serve acorn squash & enjoy some delicious fall/winter ingredients.
Serves:
2 main dish servings
Ingredients
3-4 cups (packed) mixed greens
½ whole acorn squash
4 Tbsp pomegranate seeds
12-15 small Brussels sprouts, trimmed and quartered
½ medium-sized avocado, cut into cubes
Sprinkle of salt and pepper
For the dressing:
2 Tbsp balsamic vinegar
½ clove garlic, minced
1 tsp honey
2 tsp olive oil
¼ tsp salt
Instructions
Preheat oven to 400 degrees.
Wash, trim, and quarter Brussels sprouts, then place on a baking sheet sprayed with olive oil or cooking spray. Top with another spritz of olive oil or cooking spray and a sprinkle of salt and pepper, and place in the oven for 15-20 minutes, or until just beginning to get crispy.
Meanwhile, poke several holes through the skin of your squash, and microwave it whole for 4 minutes. This helps soften it up, so you can slice it more easily.
When cool enough to handle, slice the squash in half, and remove the seeds. Slice half of the squash into 1-inch wedges, and grill the wedges on a grill pan. If you don't have a grill pan, feel free to use a regular grill, or to bake your squash in wedges right alongside your Brussels sprouts.
Carefully remove seeds from pomegranate – Amelia has a great how-to post showing you how to do this!
Divide the mixed greens into two salad bowls. Top each bowl with 2 Tbsp pomegranate seeds and ¼ of an avocado, diced.
In a small bowl, whisk together dressing ingredients.
When Brussels sprouts and squash are ready, top each salad with an equal portion, and drizzle dressing on top of salad.
Notes
I usually serve this salad with baked tofu for a bit of added protein (I just add the drained and sliced tofu to the baking sheet with the Brussels sprouts), and it would also be delicious with some chicken, Cannellini beans if you're looking for some hearty additions.