This high protein, high fiber chocolate chip hummus dip is a perfect afternoon snack, sure to be enjoyed by everyone since it tastes more like cookie dough than hummus!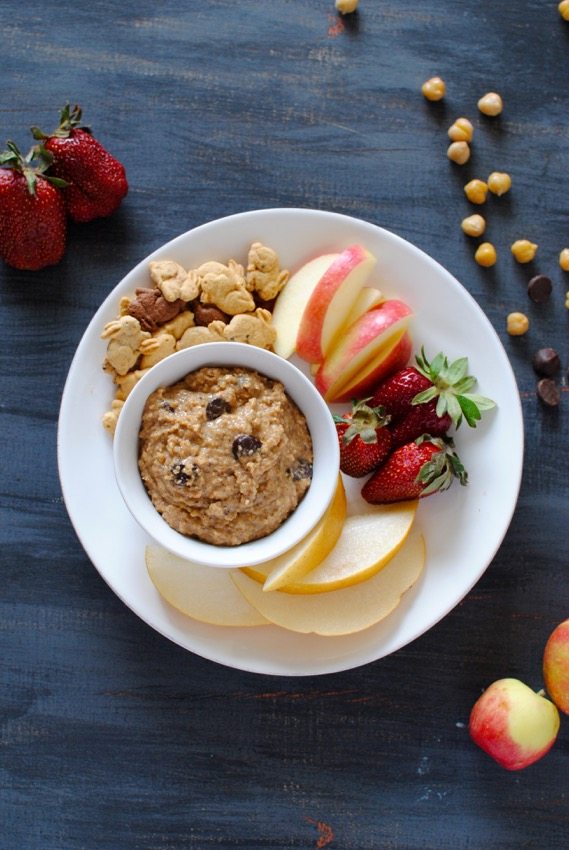 A few weeks ago I visited my friend Kari and her brand new baby. While I loved chatting with Kari and snuggling her sweet baby boy, I have to say the highlight of my time at her house was the chocolate chip hummus she shared with me ;).
When she first asked, "Do you want to try some chocolate chip hummus?" I was skeptical (to put it mildly). Did she mean garlic and tahini mixed with chocolate chips?? Ew. But then I remembered: nothing bad ever comes out of Kari's kitchen. Her food constantly blows my mind. So I said yes.
And you know what? Turns out chocolate chip hummus is pretty incredible.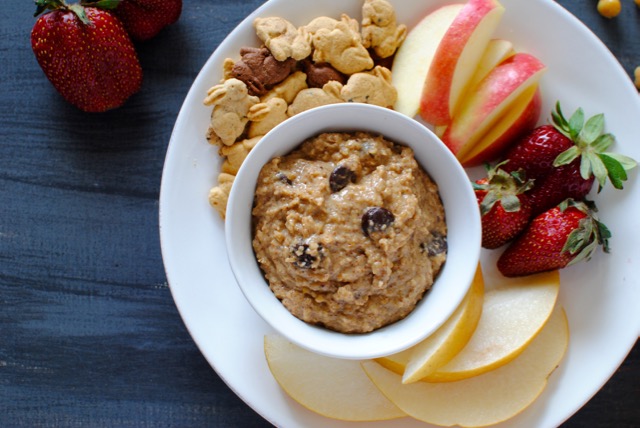 In reality, this sweet and hearty dip tastes a lot more like cookie dough than hummus. But to call it cookie dough would be wrong, because it's considerably healthier and pairs perfectly with sliced fruit, celery, graham crackers, and so on.
Obviously I asked her for the recipe, which she kindly tracked down for me from a friend who'd made the hummus. From there I started experimenting (typical) until I came up with a version that was not only delicious, but healthy enough to serve my kids as a snack.
You can definitely customize this recipe for your family's tastes – sub in your favorite nut butter, add raisins instead of chocolate chips, or use even less sweetener if you prefer.
Let me know how you like it and if you come up with any other yummy dipping accoutrements!
Chocolate Chip Hummus
This high protein, high fiber dip is a perfect afternoon snack, sure to be enjoyed by everyone since it tastes more like cookie dough than hummus!
Ingredients
½ cup cooked or canned garbanzo beans (if using canned, make sure to drain and rinse)
½ cup rolled oats
½ cup almond butter (I used Justin's vanilla almond butter, which is slightly sweet)
1 Tbsp brown sugar
1 Tbsp honey
½ tsp vanilla extract
2 Tbsp almond milk, other milk or water
½ cup mini chocolate chips (or chopped dark chocolate)
Instructions
Place garbanzo beans and nut butter in a food processor and blend until beans have broken up.
Add the oats, sugar, honey, vanilla and almond milk and blend until smooth. Mixture should be soft and creamy like hummus. If it's not, add another 1-2 Tbsp milk or water if needed.
Remove to a bowl and stir in chocolate chips.
Serve with sliced fruit, berries, crackers, Annie's Bunnies, etc.
Notes
If using unsweetened nut butter, you may want to increase the amount of honey or brown sugar to 2 Tbsp instead of one.
Recipe adapted from
this recipe
, via ABC's The Chew: